Scared For Her Life! Kylie Jenner 'Tripling' Security Team After 'Terrifying' Fan Attack – Inside Her Nightmare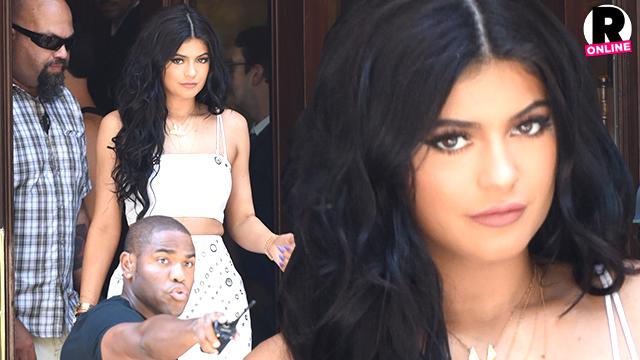 Kylie Jenner is not taking any chances when it comes to her safety! After the 18-year-old Keeping Up with the Kardashians star was physically assaulted by a fan leaving Chris Brown's concert on Friday night, a source close the Kardashian clan tells RadarOnline.com exclusively that she is now demanding that her security squad be tripled in size!
The incident took place when Jenner and her bad-boy rapper boyfriend Tyga were exiting the venue. Although the couple had a security team with them, an overexcited fan was able to grab Jenner's hair and yank it so hard that her head snapped back!
Article continues below advertisement
But now, according to the source, she is taking drastic measures to make sure this never happens again.
"Kylie has asked a few of her sisters if she can borrow their security guys for a couple of weeks," the source tells Radar. "She told them that they don't need the security as much as she does right now."
"She is also demanding that E! pay for extra security for her and Tyga everywhere that they go," says the source, adding, "She wants at least ten security guards on her at all times right now."
Although pans to meet Jenner's requests are under way, the insider adds that her family has told her that she "kind of brought this on herself."
"Her sisters feel like she is putting herself in harm's way lately because she is out at public events non-stop since she turned 18," says source. "They told her that she needs to stop trusting her fans so much and keep a low profile."
On Saturday, after the altercation, Jenner posted a Snapchat video to her fans. In it, she let them know that she was okay by showing that the hair that was yanked was not even her real hair to begin with!
Article continues below advertisement
https://instagram.com/p/71luRxsw4P/?taken-by=kylizzlesnapchats
As Radar previously reported, her sisters Kim, Khloe and Kourtney Kardashian, as well as sister Kendall, have all had similar encounters in the past.
But according to the family friend, "Kylie is still legitimately scared. She says that her fans will do anything to get to her. She is actin like she thinks that she is the most famous one in her family."
Do you think that Kylie Jenner should lay low for a while? Tell us your thoughts in the comments below.