Kim Zolciak Says 'Things Are Looking Up' After Suffering 'Mini Stroke' –– Thanks Fans For Support Amid Shocking Health Crisis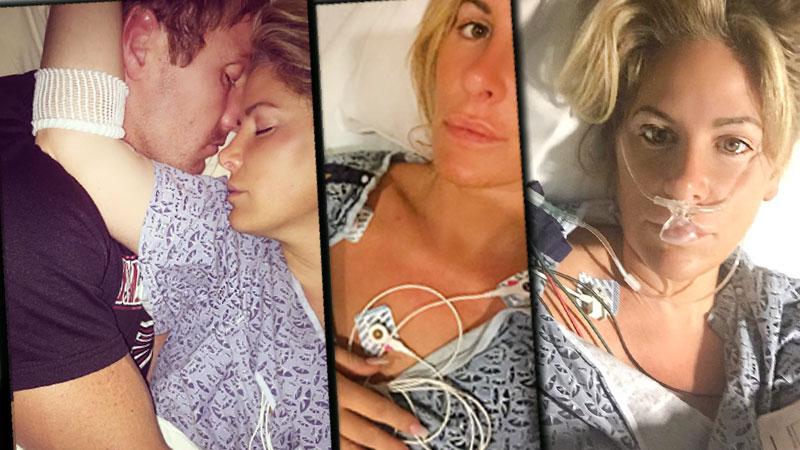 Kim Zolciak said that "things are looking up" in the wake of a mini-stoke she suffered this week, thanking her friends and family for their support during the trying time.
The former Real Housewives of Atlanta star suffered a TIA (short for Transient Ischemic Attack) this week at her Atlanta home after she arrived back in town following a filming of Dancing with the Stars in Hollywood. She said the medical crisis temporarily left her left side "completely numb" and her speech "gone."
Article continues below advertisement
Zolciak said on Instagram early Friday that she was "going in for one more procedure" at an Atlanta hospital, trying to soothe any fans who might have been rattled as she was hooked up on oxygen.
https://instagram.com/p/8DlJJ4N3hl/?taken-by=kimzolciakbiermann
The Don't Be Tardy star, 37, wrote, "Don't let the oxygen scare you it's just protocol."
She continued, "I wanted THANK all of you for the love! I feel so overwhelmed with all the texts, comments etc. I'm so grateful to have all of you! #TheyDontCallMeToughieForNothing."
The mother-of-six posted an image Thursday in which she was cuddled up to her husband Kroy Biermann, writing, "All that matters... FAMILY."
https://instagram.com/p/8BV4x9t3rd/?taken-by=kimzolciakbiermann
As RadarOnline.com previously reported, the American Stroke Association, said that "while a transient ischemic attack (TIA) is often labeled 'mini-stroke,' it is more accurately characterized as a 'warning stroke,' a warning you should take very seriously."