Watch Out, Kenya! Moore's New Man Eugene Casciaro Previously Arrested For Battery, Making Terroristic Threats In Atlanta Restaurant: His Dark Past Exposed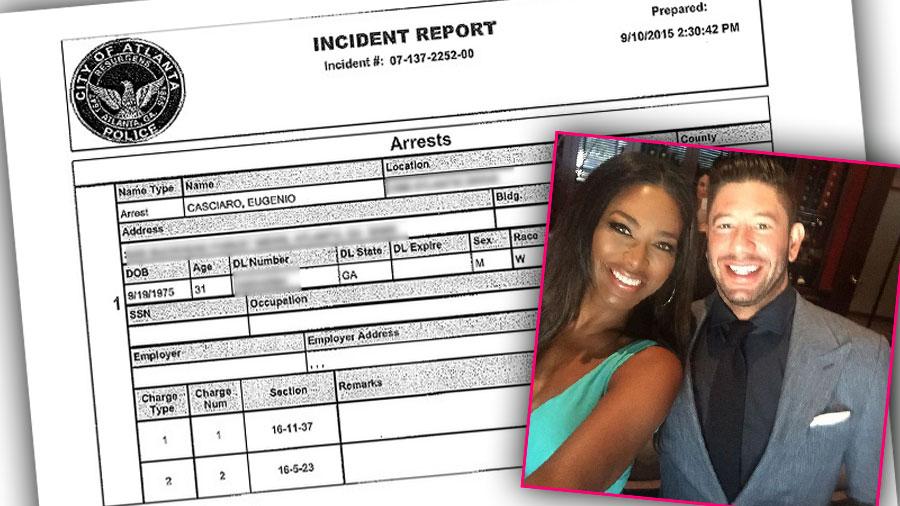 Unlucky-in-love Kenya Moore finally seemed to find her match in new boyfriend Eugene Casciaro.
"His smile though," she gushed over a cute couples pic posted to her Instagram page.
But the lovestruck Real Housewives of Atlanta star, 44, may not know that her truck dealer lover has a dark history of violence.
https://instagram.com/p/6vQEdKjNkJ/?taken-by=thekenyamoore
RadarOnline.com can exclusively reveal that Casciaro, 39, was arrested and charged for simple assault/battery and making terroristic threats at a high-end Atlanta restaurant, terrifying an innocent couple and causing chaos in the eatery.
Article continues below advertisement
According to Atlanta Police Department records obtained by RadarOnline.com, cops were called to the sushi hot spot Geisha House on May 17, 2007, after being alerted to Casciaro's disruptive behavior .
READ THE SHOCKING COURT DOCUMENTS
Victim Grady Luckey, 34, told police that as he was eating dinner with his then-girlfriend, Casciaro "told Mr. Luckey that he was 'going to f***ing kill him,'" the responding officer wrote in his incident report. "He also said that 'Even if you two get married tomorrow, I'd still like to kill you…I'll kill every f***ing person in here.'"
When Luckey asked him to stop spewing threats, the volatile Casciaro "then struck him in the back of his neck multiple times," the officer added.
Luckey then held Casciaro down until security guards could detain him.
When cops spoke with the angry assailant, "he was being very uncooperative and had a strong odor of alcohol coming from his person," the officer claimed in the papers. "He was arrested and charged accordingly."
MORE ON:
The Real Housewives of Atlanta
Article continues below advertisement
When contacted by RadarOnline.com for comment, Luckey said he had never met Casciaro prior to the attack.
"He was at a table across from us, drunk and blabbering," he tells RadarOnline.com. "He was talking about how he was going to kill somebody, about how he was going to kill "that guy right there," pointing at me."
Luckey says he merely tried to diffuse the situation by claiming nobody was going to get hurt.
"I was eating a piece of sushi, and the next thing I know, I was being punched in the face!" he recalls. "He said, 'You don't know who I am! You don't talk to me like that!'"
The entire restaurant was staring as waiters assisted the unsuspecting diner, he claims.
"My girlfriend was so upset," Luckey says. "That was not on the agenda for the evening. I'm not the type to instigate fights."
The charges against Casciaro were later dropped for unspecified reasons.
He has not yet responded to RadarOnline.com's request for comment.
Should Kenya dump her new man? Sound off in the comments.