NY Police Commish Apologizes To Tennis Pro James Blake Over Botched Arrest –– Says He Doesn't Think Race Factored Into It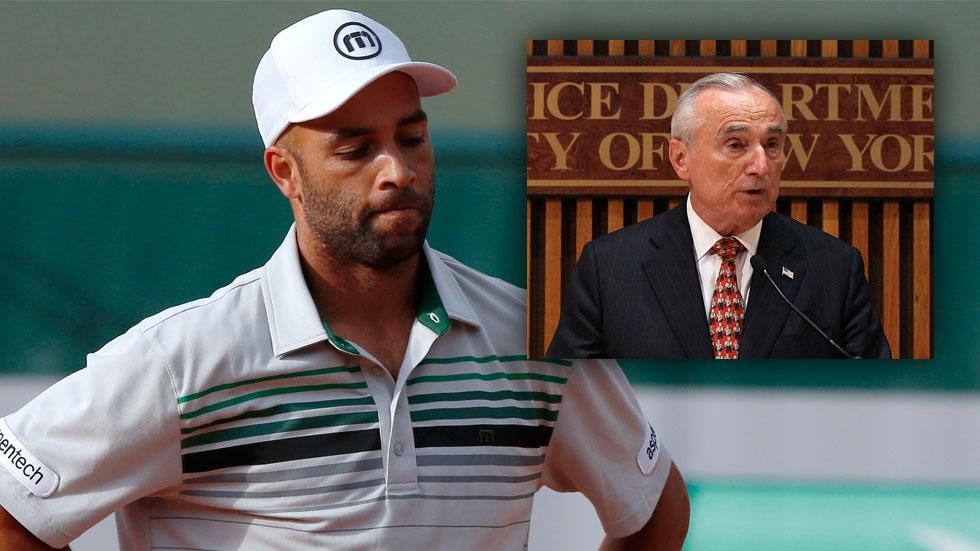 New York Police Commissioner Bill Bratton apologized to James Blake Thursday, after the ex tennis pro was roughed up and handcuffed during a mistaken arrest Wednesday.
"I spoke to Mr. Blake a short time ago and personally apologized for yesterday's incident," Bratton said Thursday, adding that Blake "said he would like to meet with the mayor and me at a future date, which we would be agreeable to."
He added, "I don't believe at all that race was a factor."
Article continues below advertisement
As RadarOnline.com previously reported, one of the five white police officers involved in the false arrest of Blake -- a Harvard alum who is biracial -- was transferred to desk duty in the wake of the explosive incident, which remains under investigation from the NYPD's internal affairs division.
In addition to Bratton, New York City Mayor Bill de Blasio said that Blake's arrest -- which occurred in front of the Grand Hyatt New York hotel -- "shouldn't have happened, and he shouldn't have been treated this way," in an interview with NY1.
Blake told Good Morning America Thursday that he was never told why he was being taken into custody by arresting officers.
"I'd like an explanation for how they conducted themselves because I think we all need to be held accountable for our actions, and police as well," said the 35-year-old athlete, whose elbow was cut and leg was bruised in the incident. "I was standing there doing nothing -- not running, not resisting, in fact, smiling."
Article continues below advertisement
Watch The Video On RadarOnline.com
Blake -- whose last time on the court came during the U.S. Open two years ago -- was at the hotel working for Time Warner Cable in conjunction with this year's tennis tournament.
The mistaken arrest was as a result of faulty information provided by a collaborator in an investigation into credit card fraud, police said Wednesday. Chief of Detectives Robert Boyce said that a photo of a suspect confused the officers.
"If you look at that photo, it is a remarkable likeness of Mr. James Blake -- they look like twins."