Dissed! Ice-T Slams Kanye West NYFW Designs As 'Future Slave Gear,' Says Clothes 'Lack Heart And Soul'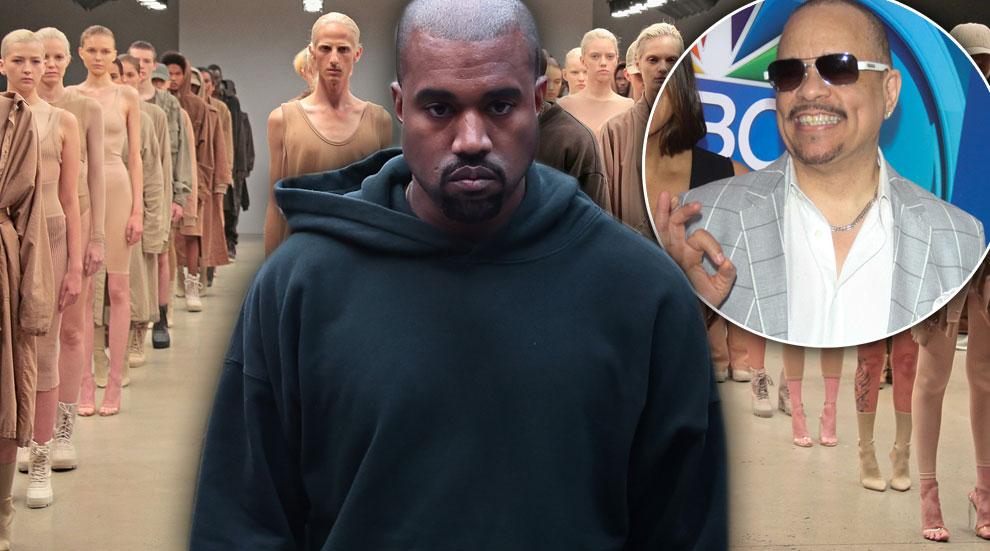 That's gotta hurt! There was no holding back for rapper Ice-T when it came to critiquing Kanye West's Yeezy 2 line on Thursday.
The Law & Order: SVU actor let it all out on Twitter, giving his 500k followers the dirty truth on his not-so subtle opinion.
"Kanye's fashion show stuff looks like future slave gear to me… Just sayin," he tweeted alongside a photo of Kanye's models.
"I'm not POP... so I speak freely," the rapper continued, later clarifying that by "POP," he meant, "It's manufactured.. Lacks heart and soul."
Article continues below advertisement
Ouch!
Meanwhile, Kanye's sophomore collection seems to have received mediocre reviews since its New York Fashion Week debut on Wednesday. The rapper stayed true to the post-apocalyptic form from his first line, with models decked out in nude tights, army-style jackets and leotards.
Prominent fashion critic Cathy Horyn published a less-than favorable critique as well, calling Kanye's collection "drab, broken-down basics" that prove he "can't be taken seriously."
"Nevertheless many people in fashion do seem to take West seriously…and that makes them fools," Horyn remarked.
Perhaps Ice-T has a point.
What do you think of Kanye's latest fashion line? Let us know in the comments below!