Exclusive
TV News Shooter Had History Of Work Trouble: Sued Station Over Claims He Was Called A 'Monkey!'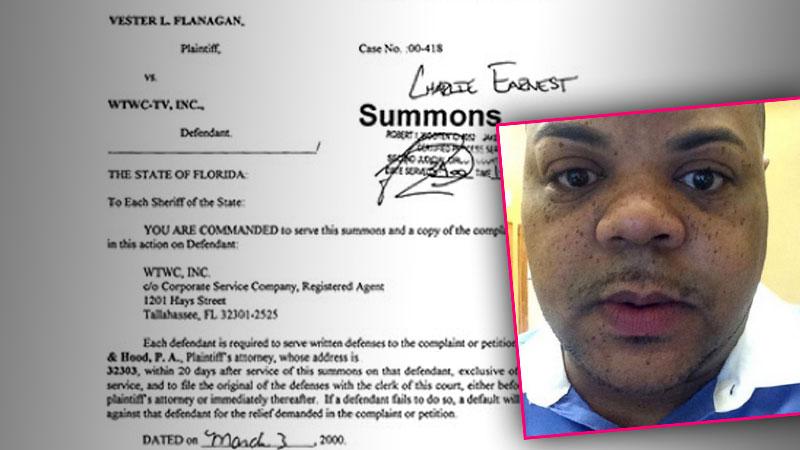 TV news shooter Vester Flanagan had a history of troubles at work before Wednesday's horrifying killing: RadarOnline.com has learned he filed a lawsuit against a former employer in Florida, claiming he was called a "monkey" by a producer!
Flanagan recorded the deadly shooting of two TV journalist coworkers Alison Parker, 24, and cameraman Adam Ward, 27, in Virginia and recorded the deadly shooting and posted it on his social media accounts.
Article continues below advertisement
But in 2000, Flanagan was already showing signs of being disgruntled in the workplace. He filed a lawsuit against his employer at the time alleging that in or around the summer of 1999, "Plaintiff was called a monkey by a producer with Defendant. This producer held an upper level management position within Defendant and was a supervisor of Plaintiff. Thereafter, Plaintiff was made aware that other black employees with Defendant had also been called monkeys by officials affiliated with Defendant."
Among the other incidents identified in the lawsuit, Flanagan claimed that a white official at the station said that it "busted her butt that blacks did not take advantage of the free money," referring to scholarship money available to African American attending college. This supervisor with Defendant then stated that "blacks are lazy and do not take advantage of free money," according to court documents obtained by Radar.
Article continues below advertisement
In December 1999, a comment "was made about a black murder suspect who had gold and green teeth...the same murder was being discussed later and the suspect was referred to as 'just another thug,' implicating racial bias by the official," the documents claim.
"On another occasion sometime in late 1999, another employee/official with defendant told a black tape operator employed with Defendant to 'stop talking ebonics,'" they state.
After filing a complaint with the Equal Employment Opportunity Commission, Flanagan claims he was fired in retaliation.
The television station denied all of the claims in responding legal documents, but a confidential settlement was reached, and the case was dismissed.
Flanagan tweeted that outrageous claims of racism motivated his killing Wednesday. After being confronted by law enforcement on a highway, Flanagan shot himself in the head, and later died at a Fairfax, Virginia hospital.