Exclusive
Been There! Tori Spelling Giving Kristen Taekman Advice On Handling Her Husband's Ashley Madison Cheating Scandal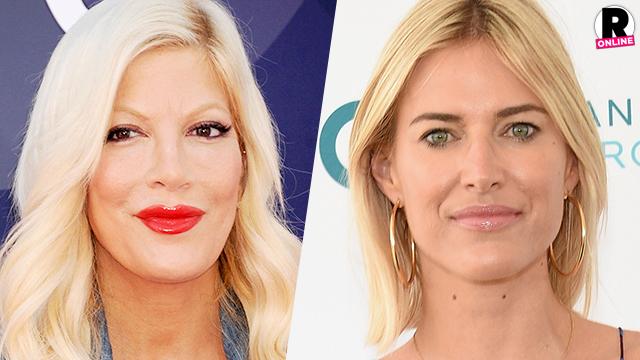 Would you take marriage advice from Tori Spelling? That's exactly what Real Housewives of New York star Kristen Taekman is doing, RadarOnline.com has learned, after it was revealed her husband, Josh, had an account on hacked cheating website, Ashley Madison.
Taekman's husband Josh has admitted he used an Ashley Madison account, after reports surfaced linking him to the cheating website.
The two women were then spotted jogging in a Los Angeles area suburb, and a source told RadarOnline.com Spelling is giving Taekman a shoulder to cry on.
Article continues below advertisement
"They met last year at an event in New York City, and became friends," the insider said. "Tori went through a very public scandal when her husband, Dean, cheated on her, so she's been there."
"Tori told Kristen to take the time and figure out what the best decision is for her and the kids," the source said. "Even though Josh has only admitted to have an account on Ashley Madison, Kristen of course has doubts. Tori advised Kristen to carry on in public as she always does, and to never let the press get an unflattering picture."
"I signed up for the site foolishly and ignorantly with a group of friends and I deeply apologize for any embarrassment or pain I have brought to my wife and family," Josh, 46, told People earlier in the week. "We both look forward to moving past this and getting on with our lives."
Spelling, meanwhile, also expressed concerns that husband, Dean, might have had an account on the controversial website as well, as RadarOnline.com reported.
Despite Spelling's own drama, having the True Tori star as a Hollywood pal has "been a great help to Kristen," the insider said. "Dealing with the possible betrayal is extremely hard, and doing it in the public eye is unbearable. Tori is a fiercely loyal friend, and offered to help Kristen in any way she could."
Do you think Kristen should take advice from Tori? Let us know in the comments!