Summer Shake Off! A Zumba Fitness-Inspired Playlist for Your Next Sweat Session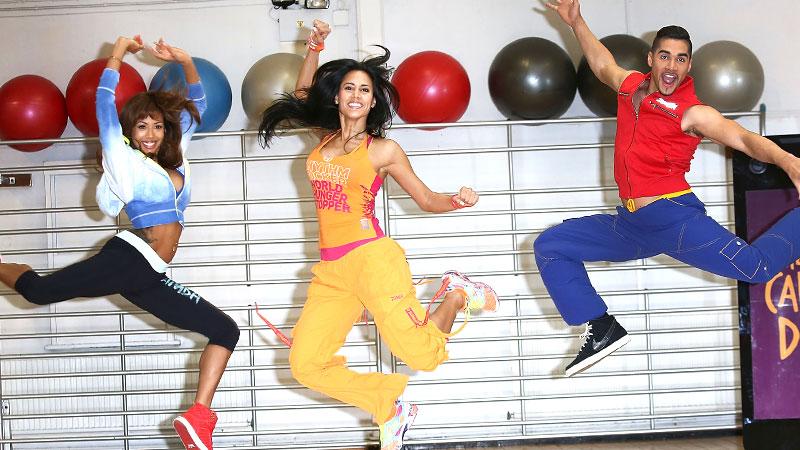 Want to dance like no one's watching? Celebrity Zumba® instructor Gina Grant has compiled her top tunes and the reasons why they make for the ultimate at-home heart-pumping, hip-shaking summer sweat session. Press play and before you know it, you'll be joining the party and getting super fit in the process! Click on each song to download with iTunes and get a taste of the workout that started the dance-fitness revolution.
Article continues below advertisement
Warmup Mix:
FREAK by Steve Aoki and Diplo
Turn Down for What by Lil Jon and DJ Snake
A** Hypnotized by TJR and Ode To Oi
This high energy mix starts class off on a high note!
1. Ta Encendio by Oro Solido
"This merengue song is a class favorite, and the fast beats per minute guarantee a great workout!"
2. La Comay by Sonora Carruseles
"A salsa staple that reminds me of when I first started taking Zumba creator Beto Perez's class."
3. Guaya Guaya by Don Omar
"The rhythm immediately makes me want to move!"
4. La Mordidita by Ricky Martin
"The contagious energy in this hit always gets my students revved up."
5. Give It To Me by Dahrio Wonder
"This is a sexy smooth hip hop song that spices up any class."
6. Mambo Salsa by BIP
"My students love (and always request!) this salsa song."
7. My Check by Armando & Heidy
"This hot Dembow song adds a little extra flavor to each class."
8. Ella Es Mi Fiesta (remix) by Carlos Vives and Maluma
"I've always loved Carlos Vives' music, and this remix is a true feel-good song!"
9. Darte Un Beso by Prince Royce
"I love the lyrics of this romantic bachata song. It's the perfect pre-cool down track."
10. I Can't Feel My Face by The Weekend
"This song makes me want to crank up the volume every time the beat drops!"
Now that you've practiced at home, you're ready to strut your stuff. Still need a little extra inspiration? Check out Gina's moves in this video for "Give It To Me!"