Steve-O Arrested After Climbing Crane & Setting Off Fireworks In Anti-SeaWorld Protest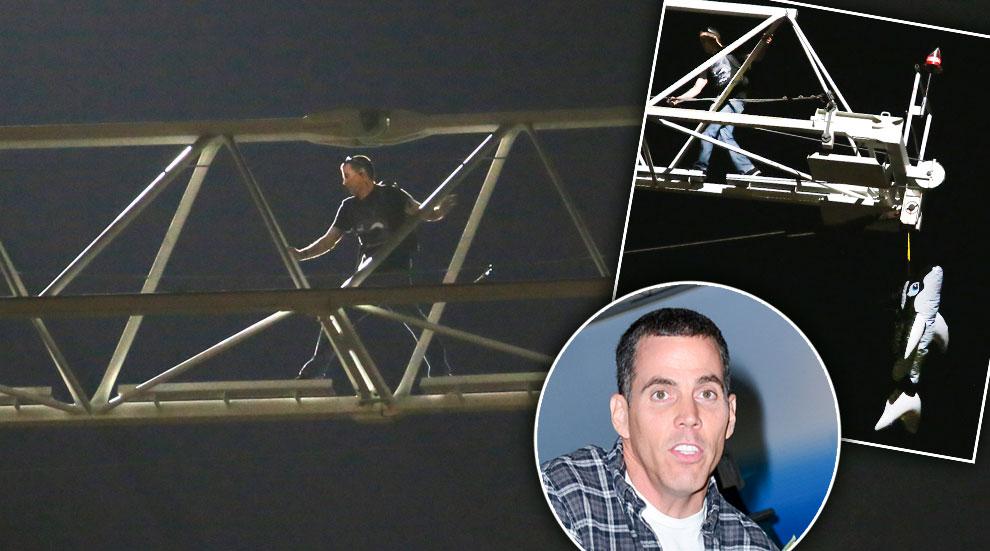 Steve-O was arrested Sunday in Hollywood after scaling a 100-foot high crane off Sunset Boulevard during an anti-SeaWorld protest, police said.
The 41-year-old Jackass daredevil, whose real name is Stephen Glover, climbed the dangerously-high contraption and placed a large inflatable ballon resembling a whale, with the phrase "SeaWorld Sucks" scrawled on it. To top off the display, he ignited a set of fireworks.
Article continues below advertisement
Watch the video on RadarOnline.com
The wild-man was taken into custody when he got down, according to Los Angeles police Lt. Michael Ling. Among the charges he faces includes conspiracy to commit trespassing and filming without a permit, officials said.
https://instagram.com/p/6MEPGHA7Dt/?taken-by=jeffarri
Steve-O, who has past been involved in anti-SeaWorld efforts, said that Sunday's protest was spurred by Blackfish, a 2013 documentary that was critical of the San Diego amusement park.
Watch the video on RadarOnline.com
More than 80 firefighters, five ambulances and a helicopter were dispatched in the incident, Los Angeles Fire Department spokeswoman Margaret Stewart, adding that a harbor crane operator had suffered an emergency around the same timeframe.
"Some of the resources on this hoax," she said, "could have been devoted to a real emergency."