Rob Lowe Failed To Report Near $10 Million Profit Off Sale Of Home, Tax Officials Say –– Claim Actor Owes Nearly $800K Plus Penalties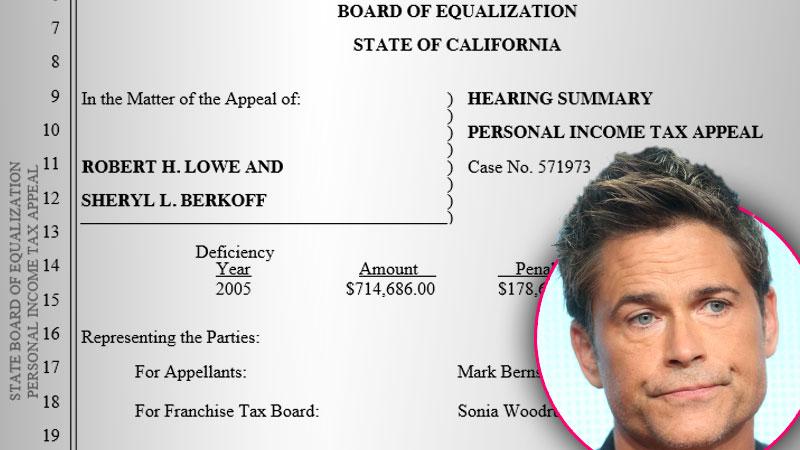 Rob Lowe remains in a legal tussle with the Franchise Tax Board, who claim he owes nearly $800,000 after not reporting nearly $10 million in the sale of a California home.
The Parks and Recreation star, 51, appeared before the state's Board of Equalization in Culver City, Calif. on Tuesday to defend himself and wife Sheryl Berkoff in the matter in regards to the $25 million sale of their Montecito, Calif. home in 2005.
Article continues below advertisement
"I take this very seriously ... I've been paying my taxes in this state since I was 15 years old … and it's a privilege," Lowe said, according to the Sacramento Bee.
Read The Court Docs On RadarOnline.com
Franchise Tax Board officials said that the sale of the home bumped Lowe's profit up to $9.3 million, and that it boosted his taxable income to the tune of $8.8 million.
In response, they were seeking Lowe and his wife to pay an extra $909,938 with a penalty of $227,484. After a series of negotiations, the board tweaked the numbers to $6.9 million, with an extra $714,686 owed, and a penalty of $178,671.50.
The revised figures were at the center of Tuesday's hearing, with the board asking for more time, citing the need to review new info provided by the couple.
In response, the Board of Equalization extended their decision for three months.
While Lowe and his attorney Mark Bernsley protested the extra time -- the St. Elmo's Fire star asked chairman Jerome Horton for "common sense and fairness and expediting" in the ongoing financial tussle -- Horton assured them that the Board of Equalization is seeking "to resolve this matter" in a timely fashion.