Storm Brewing: See Vester Flanagan's Shocking Road Rage Video Weeks Before On-Air Murders –– 5 Latest Developments In Deadly Incident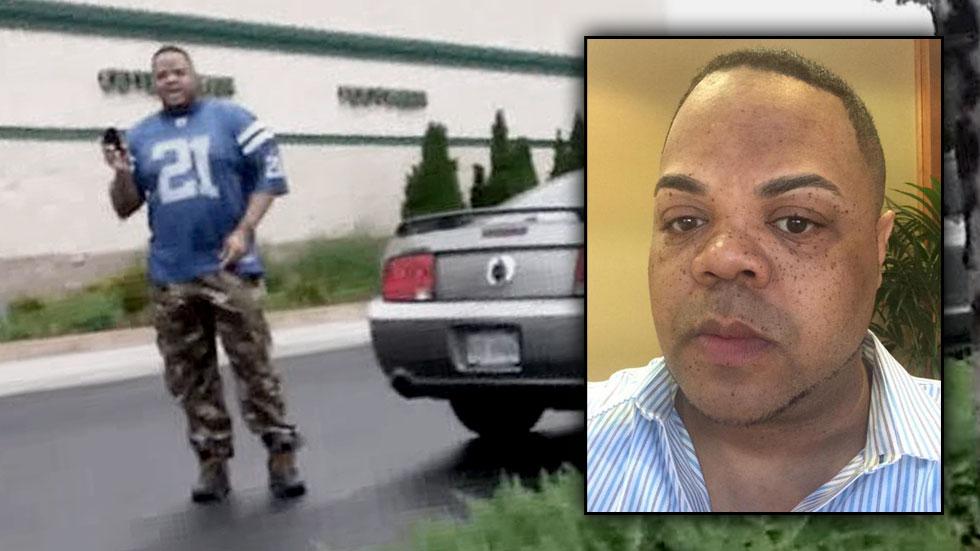 Vester Flanagan, the man who murdered two people on live TV Wednesday, was filmed in a road rage incident last month, and RadarOnline.com has the clip.
Road Rage
Brandon Foster posted to YouTube a scary run-in that took place in Roanoke, Virginia July 6, after he apparently warned Flanagan at a red light, to slow down from speeds of up to 100 mph. Foster wrote on his account, "I posted this because I believe it may be Vester Lee Flanagan a.k.a. Bryce Williams, suspected of murdering Alison Parker and Adam Ward, and seriously injuring Vicki Gardner on 26 August, 2015 at Bridgewater Marina." In the clip, which took place in the parking lot of a Sportsman Warehouse, Flanagan was wearing a football jersey and camouflage pants standing in front of a silver Mustang. Flanagan was recording Foster, who called him an a**hole, at which point Flanagan could be heard taunting Foster about his weight.
Article continues below advertisement
Watch The Video On RadarOnline.com -- WARNING: Language Is Explicit (Courtesy: Youtube/Viralhog)
Moment Of Silence
WDBJ-TV held an on-air moment of silence early Thursday for the two employees Flanagan gunned down, reporter Alison Parker and cameraman Adam Ward. Showing images of the late journalists, broadcasters Kim McBroom, Steve Grant and Leo Hirsbrunner held hands to honor their fallen colleagues. "Joining hands here on the desk," McBroom said, "it's the only way to do it."
Memorial
Flowers, candles, balloons and other mementos lined the front of WDBJ-TV's station Thursday as the public erected a memorial in memory of Parker, 24, and Ward, 27. The TV station was the epicenter of a media frenzy as news trucks and reporters and police were prevalent in the area following the shocking and unprecedented incident.
Flanagan's Family Speaks Out
Flanagan's relatives issued a statement in the wake of the murders, saying that, "It is with heavy hearts and deep sadness that we express our deepest condolences to the families of Alison Parker and Adam Ward. We are also praying for the recovery of Vicki Gardner. Our thoughts and prayers at this time are with the victims' families and the WBDJ7 NEWS family. Words cannot express the hurt that we feel for the victims. Our family is asking that the media respect our privacy." Flanagan died Wednesday afternoon from a self-inflicted gunshot wound.
Watch The Video On RadarOnline.com
Survivor
Vicki Gardner, who was being interviewed about tourism in the area when Flanagan opened fire, is in fair condition and improving, her husband Tim Gardner told WDBJ-TV Thursday. Gardner, the Smith Mountain Lake Chamber of Commerce director, was stabilized after suffering a bullet would in her back in the horrifying incident.
Watch The Video On RadarOnline.com