'RHOC' Heats Up! Meghan Edmonds Erupts At Vicki Gunvalson Over Brooks Cancer Drama: 'You're Just A Bitter Old Woman'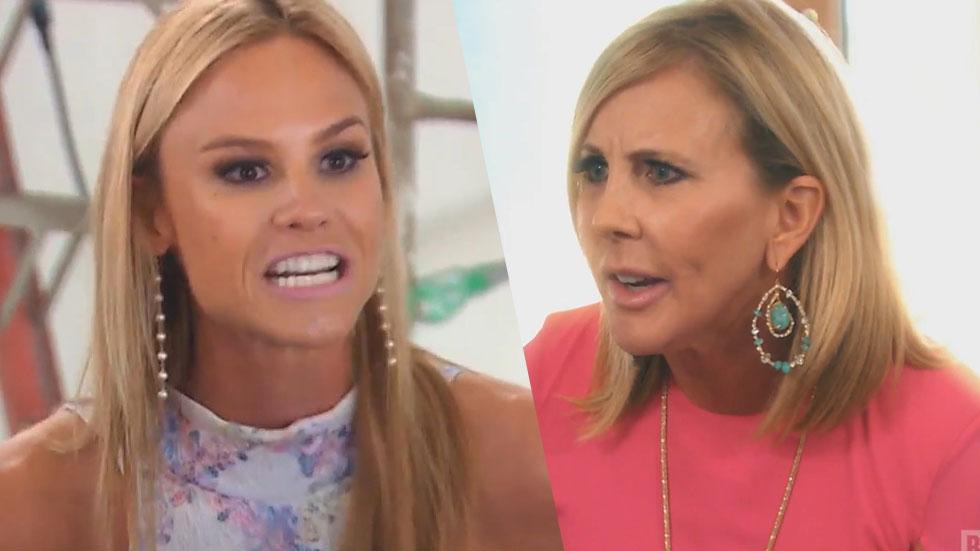 The Real Housewives of Orange County aren't playing around anymore, especially after a psychic alleged that Vicki Gunvalson's boyfriend Brooks Ayers could be faking cancer.
But instead of feeling cared for by her concerned friends, Vicki opts to defend her relationship and confront anyone who questions her authority, setting her sights on ultimate pot-stirrer Meghan King Edmonds after pal Tamra Judge reveals the RHOC newcomer's involvement in the ordeal.
Article continues below advertisement
"When Vicki's pissed off, she's like an attack dog," Tamra says of her co-star's temper. "She will go for Meghan's throat."
Before the situation erupts, however, the gals -- minus Vicki -- and their husbands head for a VIP look at NASCAR. Once they see what it's like to ride in a race car for 125 mph, the ladies decide it's time to drink.
While enjoying a cocktail, Meghan tells Heather Dubrow that Vicki had texted her a few days prior, shaming her for insinuating that Brooks had faked his cancer.
When fingers point to original bean-spiller Shannon Beador, the reality star insists that Vicki never allowed her to even relay the message.
"I talked to her," Tamra chimes in, admitting her part in the whisper-down-the-lane game as Meghan realizes she'll be taking the heat for the drama-fest this time around.
Across town, Vicki takes a break from girl-hate to celebrate her birthday alongside Brooks. The couple heads out onto the water for a romantic boat ride.
Article continues below advertisement
Meanwhile, other birthday girl Shannon feels disappointed in hubby David's mediocre efforts to celebrate her's, but deems it even more important to ease up on the tension in front of their kids.
Watch the Video on RadarOnline
"When I see my kids notice tension between David and I, that's like a knife deep in my heart," she says.
During confessional, Shannon shares that on her last birthday, David admitted to "being intimate" with her before visiting his mistress the same night, making for a very miserable 50th birthday.
Even worse, her second-rate 51st birthday only reminds Shannon of the heartbreak she felt last year.
Watch the Video on RadarOnline
Later on, the girls get together to see Heather's newly-finished home, but the tables soon turn when Vicki hones in on Meghan for meddling in Brooks' health crisis.
"Don't you ever question if he has cancer again, I will take you down," she seethes at Meghan across the table.
Article continues below advertisement
The argument quickly escalates into a screaming match.
"You know what, you're a little girl you need to go away," Vicki yells. "Shame on you."
"For what? For caring?! You've been so rude to me lately," Meghan pleads.
"Shut up! You don't want to go there with me," Vicki warns.
"You're just an old woman who's pi**ed off and bitter at the world, so you shut up," Meghan hits back, leaving the ladies shocked as the episode concludes.
The Real Housewives of Orange County airs Mondays at 9/8c on Bravo.