Back To Reality? Kim Richards In Talks To Return To TV — But Kyle's Blocking Her Plan!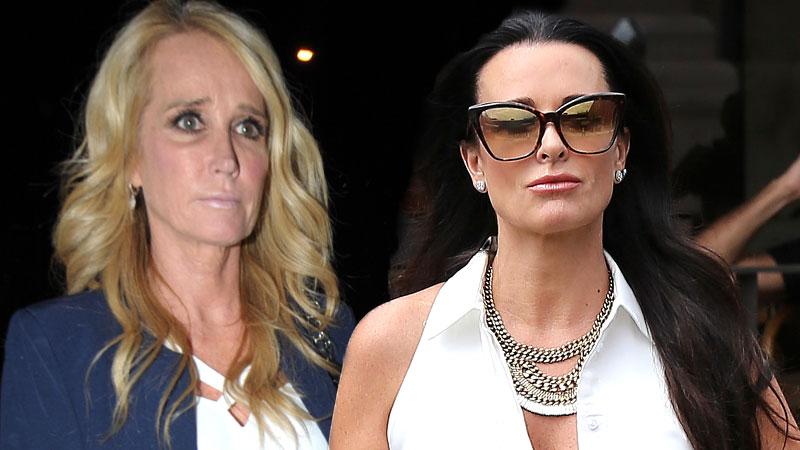 Kim Richards has been adrift ever since she was fired from The Real Housewives of Beverly Hills earlier this summer. But RadarOnline.com has learned that in recent weeks, she's been in talks with VH1 about a return to reality TV. Only problem? Her sister, Kyle, and her kids are torpedoing the whole plan!
Family Therapy with Dr. Jenn has already begun filming with Dina and Michael Lohan, and according to an insider, "Producers had also offered Kim a spot on the upcoming season."
Article continues below advertisement
"Kim wasn't interested in the concept, or what she would be doing, but needed to earn a paycheck," the source said. "She approached her kids about the proposal, and asked them to reach out to Kyle, because they aren't talking."
However, "The kids and Kyle all said no way," the insider claimed. "It's not because they don't want to help Kim, but they felt she needed to go to rehab. If Kim had already successfully completed treatment, and was in a good place to begin truly working on relationships with the family, that would be a different story."
Sources tell RadarOnline.com that after ditching yet another rehab facility last weekend, Kim is now living with several different friends in the Los Angeles area.
"Her family refuses to allow Kim to live with them because she is in denial about the addiction," one source said. "They will no longer be enablers to Kim's whims."
The former RHOBH star's most recent struggles began in April, when she was arrested for public intoxication at the Beverly Hills Polo Lounge. She briefly tried a few treatment centers, but then went MIA after relapsing at her daughter Brooke Brinson's wedding in Mexico.
Richards was fired from RHOBH and then arrested on August 2, for shoplifting at a Target store.
Recently, Kim had been taken from a Santa Monica hotel, and was placed on a 5150 involuntary psychiatric hold at a hospital in the South Bay.
Everyone is "worried about Kim, but until she agrees to get help, there is nothing they can do," the insider added.