Exclusive
Running Wild? 'Selfish' Prince Jackson Angers Family By Ditching Grandfather Joe After Stroke To Party With Pals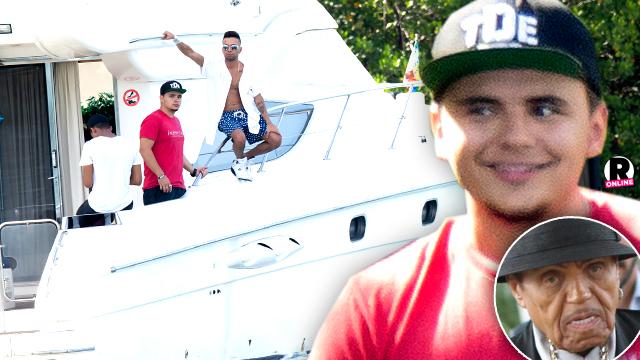 While the rest of the family surrounds Joe Jackson in Brazil during his health crisis, bad boy Prince has been doing his own thing, and RadarOnline.com has exclusively learned that his relatives are not happy about it!
As Radar previously reported, the 85-year-old Jackson family patriarch suffered a serious health scare in Brazil when he had a series of heart attacks followed by a massive stroke. Although the outlook looked grim for the elderly father of the late King of Pop, Michael Jackson, his grandson Prince chose to hop on a yacht in Miami rather than be there for his dying grandfather.
Article continues below advertisement
"Prince has always been the irresponsible and selfish one among the children," the insider says.
In fact, after Prince's recent trip with his cousins Jermajesty and Jaafar, he flew back to L.A instead of joining the family in South America.
"While the other kids are stressed about Joe's health, Prince is more concerned with having leisure time and enjoying himself," the source claims.
"Katherine is consistently disappointed by Prince's behavior, but Prince disappearing during this time comes as no surprise to anyone."
"Prince and Jermajesty are nothing but trouble when they get together and they are a bad influence on each other," says the source.
"But the family much prefers them to at least be together because the family bond is so important to them all, including Joe."
Do you think that Prince Jackson is having a hard time dealing with his grandfather's ailing health because of losing his father just five years ago? Tell us your thoughts in the comments below.