My Dad's Not Racist! Brooke Hogan Defends Hulk With Her Own Racial Slur: A 'Black Guy Called Me A Honkey'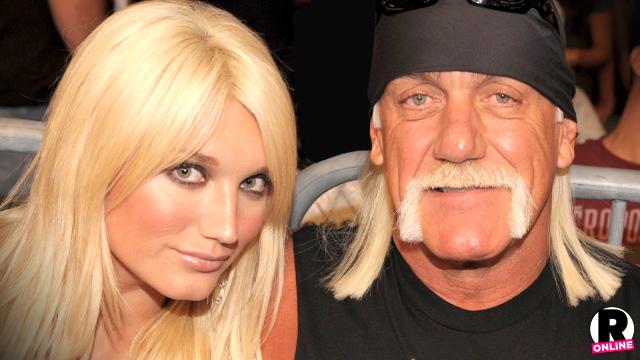 Hulk Hogan's daughter, Brooke Hogan, has come to his defense after he was caught on tape using the N-word. But instead of apologizing to fans, she insists his comments were not "offensive" and even uses her own racial slur!
The daughter of the now-fired WWE wrestler spoke about the controversy and said that the words, captured on his 2008 sex tape, were not a true reflection of how Hulk feels.
"He's my dad. I love him and the reason I'm standing by his side on this whole thing is because I know him…He's an easy target," she told Entertainment Tonight.
Article continues below advertisement
The 27-year-old was at the center of her dad's rant, when he said he wouldn't want her to date a black man. But she insisted the vile diatribe was not offensive.
"I feel bad for my dad, but I also feel bad for the African-American fans and stuff because they don't know that he didn't mean it," she said. "It would be offensive but this is something that we have to put a stop to everyday."
From there, things took a turn to the bizarre. "I'll be honest with you, I've had a black guy call me a honkey," she claimed, "and I've also been told that white people smell like bologna. I don't take offense to it, I just laughed at it."
Hulk's daughter said that her father understands why he lost his job after the details of the racist rant were released by RadarOnline.com and The National ENQUIRER.
'His Career Is Done': Hulk Hogan Blames RadarOnline.com Story For Ruining His Legacy In Tense Florida Court Hearing
"He didn't want to disappoint his fans," Brooke said. "He doesn't want anyone to think that of him because it's not who he really is … He understands, he takes responsibility for it. He's like, 'I messed up like, this is the repercussions of what's happening.'"
Check out Brooke's full interview on Entertainment Tonight on Tuesday, August 04, 2015. See local listings for times. What do you think about her defense of her dad? Sound off in the comments below.