Courtney Stodden's Momager Regrets Allowing Her To Marry Doug Hutchison – Claims He Has Done 'Horrible' Things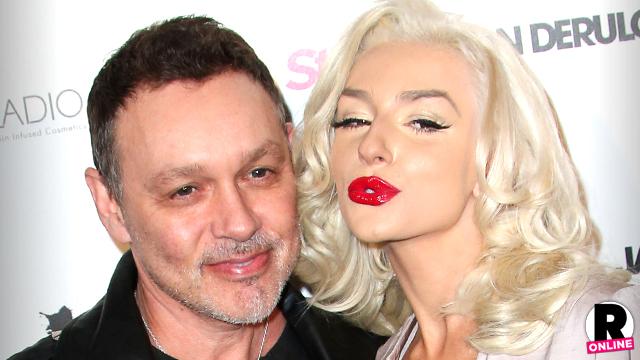 Sexy Courtney Stodden shocked the world when her parents gave her their blessing to marry her 51-year-old boyfriend when she was just 16. But as the cult fave celebrates her 21st birthday today, her mother spoke exclusively with RadarOnline.com and reveals that their relationship is so broken that she actually regrets signing the permission slip for the controversial marriage!
Krista Stodden, the former teen bride's momager, was by her side when she moved to Hollywood after marrying Green Mile actor Doug Hutchison, who she met online. While her young daughter has run the gauntlet from nude photos to a sex tape and even a trial separation from Hutchison, she was there to guide her the entire way. But now, Krista insists she's done.
Article continues below advertisement
"Courtney is turning 21 and this will be the first time in my life that I have not been with my daughter on her birthday. Things are still very icy between us and I have not talked to her since she and I went our separate ways," Krista told RadarOnline.com.
After a slew of reality show appearances, Stodden has been relatively low key since reconciling with Hutchison, and her mother has moved on with a new husband. But the two aren't speaking, according to Krista.
"I believe there are external influences without any names being said," Krista told RadarOnline.com. "I do not believe mothers and daughters should be separated."
"I think that if a husband can see that there are problems between his wife and her mother I believe he should stay out of the situation," Krista continued, calling out Hutchison. "There are some really horrible things that he has done to me since she and I have not been speaking that will be very hard to ever forget about."
Article continues below advertisement
In 2011, Hutchison and Stodden tied the knot in a Vegas ceremony with her mother's consent, a move that she says she now regrets.
"I do take full responsibility, however because I am the one that did sign the paper for her to marry this man," Krista admitted. "If I had to do it all over again I cannot tell you if I would be signing that paper."
Krista, who has started her own management company, Krista Keller Talent Management, and is representing stars like award-winning TV talk show host John Kerwin, told RadarOnline.com that she is distraught over the situation with Stodden.
"I encourage husbands to not divide but encourage a healthy relationship between mother and daughter," she insisted. "And it is not unusual for mothers and daughters to occasionally have their disagreements. Maybe he just doesn't know any better."
"I really do miss her. I am not sure what is going to change us not speaking. I worked so hard when I was managing her and I learned a lot so I will be grateful for that experience. I have handed it over to God because when you are separated from your daughter that is a big thing to try to deal with on your own."
Article continues below advertisement
But Krista told RadarOnline.com that she hasn't given up hope for a reconciliation.
"Our professional relationship unfortunately got in the way of our mother-daughter relationship," she explained. "I'm hoping when Courtney gets a little older she will understand that I will continue to pray for Courtney and I to someday be able to speak and have a loving mother and daughter relationship. I am blessed to have three daughters and four grandchildren, but when there is one child missing out of your family it can be very sad and heartbreaking."
Ultimately, she said she believes Hutchison is standing in the way: "That's what makes it so difficult is that he loves the way things are right now he has my daughter all to himself. She and I were so close and I think that really bothered him."
What do you think about Courtney and Doug's relationship? Sound off in the comments below.