Exclusive
Reality Fight! Inside Kim Kardashian's Plan To Stop Amber Rose & Blac Chyna's MTV Show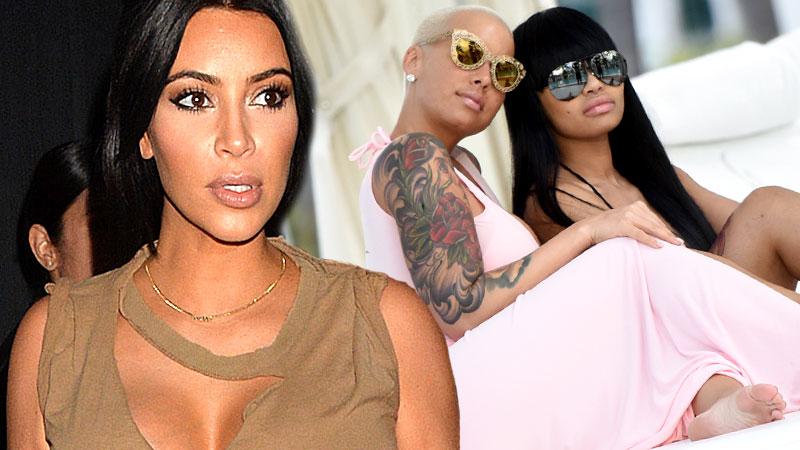 Kim Kardashian's worst nightmare has come true after her hubby Kanye West's ex, Amber Rose, and Kardashian family enemy Blac Chyna revealed that they will be starring in an upcoming reality show on MTV.
"This is the worst possible scenario for the Kardashians," a source close to the family tells RadarOnline.com exclusively. "Giving these two more of a voice than they already have is going to be beyond destructive!"
Article continues below advertisement
Because of the duo's intense dislike of the Keeping Up With The Kardashians clan, " Amber and Blac Chyna will definitely be verbally going after the Kardashians on TV," the source said.
And so, "Kim tried her hardest to prevent this show from happening, but obviously did not succeed," says the source, adding, "These two have it out for the Kardashians and it is going to turn into such a mess."
Why the beef?
MORE ON:
Keeping Up With the Kardashians
As RadarOnline.com previously reported, tensions between Kim and Rose started in 2012, when the 34-year-old reality star began dating Rose's ex, West.
Although Rose and West dated for only two years and ended their relationship in 2010, Rose has always seemed to have it out for the Kardashian beauty and rightfully so – she has said she believes that Kim stole her man!
As of late, Rose has focused her attention on Khloe Kardashian, however, after she was attacked by the outspoken sister for talking about Khloe's younger sister Kylie Jenner's relationship with Tyga, who also happens to be Blac Chyna's baby daddy.
On top of that, Khloe is now dating yet another one of Rose's ex-boyfriends, as RadarOnline.com recently revealed that James Harden is an ex lover of the bald-headed former stripper.
Do you hope that Amber Rose and Blac Chyna use their airtime to trash the Kardashians? Tell us your thoughts in the comments below.