Zumba University: How (And Why) Zumba Is Moving College Students -- On And Off The Dance Floor!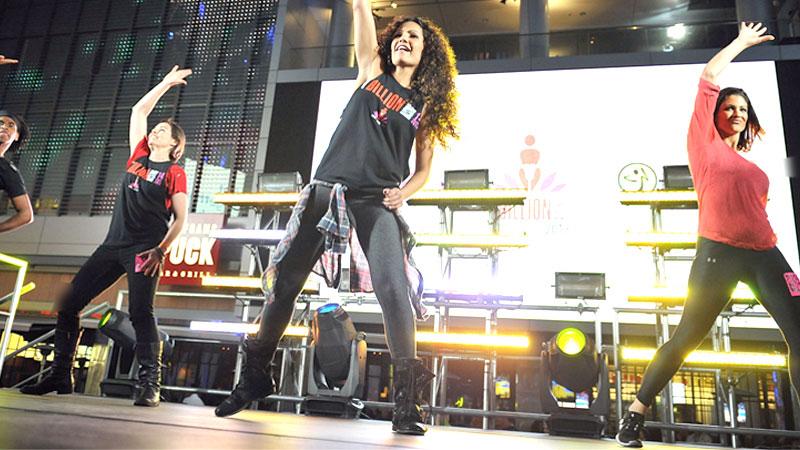 Not every 18 year old goes off to college with the dream of joining a sorority or fraternity, but the idea of finding a place where new friends and wild-night memories are made is something most students crave. It can be challenging (and overwhelming!) to meet friends with common interests amidst a never-ending sea of new students. Plus, thanks to the endless social media channels, college students today are more detached from their peers than ever before. Study sessions in the cafeteria have turned into never-ending Snapchat and WhatsApp exchanges. And it doesn't help to have tedious class schedules and tons of studying to do.
Article continues below advertisement
Years ago, the only way to balance school and a side job of making sandwiches at the local coffee shop was to run on the "dreadmill" or take an aerobics class. There were no fancy bootcamps or party-themed workouts, which made exercise feel like real work, and something that students had to conquer solo. With social media dominating almost every second of students' free time today, joining a group that does something meaningful, productive, healthy and most importantly fun, can be completely refreshing. Also, fast-growing health and fitness awareness among millennials is making staying fit "trendy" and "cool".
One sign of this new awareness? Students at the University of Delaware recently formed an official Zumba Club, which now boasts over 900 members, and has become a new social trend on college campuses. In some cases it has even turned into a career opportunity where many of the Zumba enthusiasts have become instructors. UCLA and the University of Maryland have followed suit with on-campus groups for anyone to join, whether they're already seasoned dancers, fitness buffs, or simply want to try something new – after all, isn't that what college should be about?
Article continues below advertisement
These Zumba clubs are also helping students overcome personal hurdles, whether it's shyness, warding off the dreaded "freshman 15", or shaking off exam-related stress. Cristy Toscano, President of the University of Delaware's Zumba Club admits she was a "shy, chubby high school student whose least favorite subject was gym class," but Zumba has since turned her into a self-proclaimed "front row diva!"
"I never expected Zumba to have such a big impact on my life. Whether I'm stressed about a test, feeling gross because of the cake I treated myself to, or I'm just overly hyper, Zumba has been able to fix it all. It grounds me, supports me and has truly given me a community. It's the reason I get myself to the gym, the reason I have such a bond with my classmates, and an opportunity I could not be more thankful for," said Jessie Cohen, a student at University of Maryland.
Article continues below advertisement
Lots of students have also been inspired to take their Zumba obsession to the next level by becoming licensed instructors, which has proven to be an amazing way to develop leadership skills that they'll carry with them wherever they land post-college. Maribel Garcia, a UCLA undergraduate student and Zumba Instructor said "Zumba is something I know I'll continue to do for the rest of my life. I'll be debating bills in congress by day, and then at 7 p.m., I'll still be teaching a Zumba class somewhere!"
The university Zumba Clubs and communities are just the beginning of an exciting movement, for which their members have paved the way. In 2016 (and beyond), there's hopes of having an official Zumba Club available to college campuses all over the nation to recruit students into life-long Zumba fans, showing their peers and the world the life-changing benefits of Zumba – physically, mentally, emotionally and socially! Who knows, maybe one day you'll start a Zumba club of your own. For now, you can easily find a class in your area by checking out Zumba's class locator.