More Jersey Drama? Melissa Gorga Says She Can't Visit Teresa Giudice In Prison Yet On 'WWHL' – Find Out Why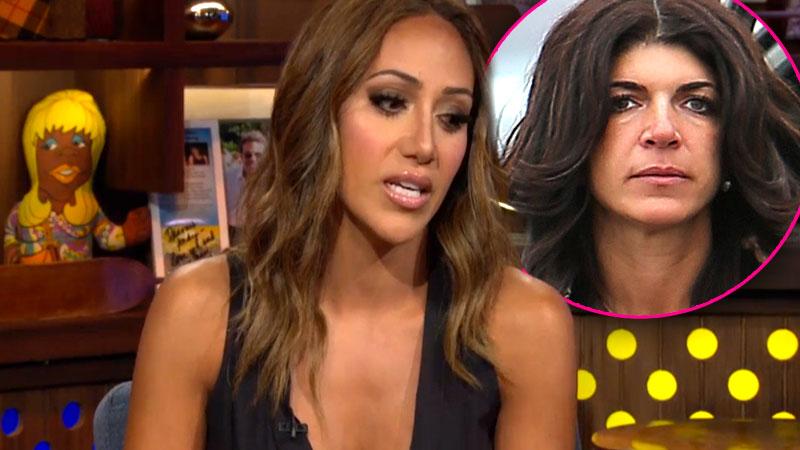 They may be playing nice for cameras, but Andy Cohen believes that Real Housewives Teresa Giudice and Melissa Gorga may have some unfinished business to attend to.
Gorga and RHONY star Luann de Lesseps dropped by Watch What Happens Live for the usual fun chit-chat, but never expected Cohen to get quite so honest about the jailbird housewife.
When a caller asks Gorga for an update on Giudice, the reality star answers diplomatically:
Article continues below advertisement
"She's doing as well as can be expected. She's holding in there. She's really strong and she's really good at keeping it positive when she talks to the girls on the phone and connects with her husband and everyone."
"Have you visited Teresa yet?" Andy asks.
"I have not, Joe has," Gorga answers. "I requested to go but I haven't been approved yet."
"By her?" Andy jabs.
"No I think it's by the place," Gorga responds tactfully.
"I think it's by her…" Andy grins mischievously.
Oh no he didn't!
Watch the Video on RadarOnline:
Cohen may be on to something here, however.
Teresa's hubby Joe Giudice recently inked a deal with Bravo for a spin-off reality show that follows his life with his daughters while Teresa finishes her sentence.
Although the RHONJ star made it clear before she entered the Danbury Federal Penitentiary that she didn't want her brother Joe or Melissa to take care of daughters Gia, Gabriella, Milania and Audriana, their aunt has reportedly been an active part of their lives on camera.
Perhaps that's the reason behind Gorga's approval status for visiting Teresa.
Do you think Teresa is keeping Melissa from visiting? Let us know in the comments below!