Exclusive
Paternity Scandal! More Proof Amy Duggar's 'Dad' Isn't Her Biological Father: Read The Court Documents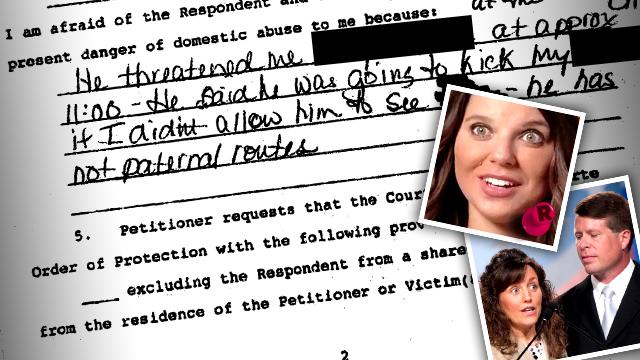 Is Jim Bob Duggar hiding another family secret?
The ultra-Christian 19 Kids And Counting patriarch's niece, Amy Duggar, may have told the truth when she confirmed RadarOnline.com's exclusive report earlier this year that she was born out of wedlock— but she didn't tell the whole story.
It seems that the bubbly 28-year-old's "dad," Terry Jordan, 52, isn't actually her biological father.
As RadarOnline.com revealed earlier this month, Amy's mother Deanna Duggar, 52, claimed in 1992 court documents that Terry has "no paternal roots" to her daughter.
Article continues below advertisement
And now, in court documents related to a separate case, Terry failed to mention the existence of a daughter.
When a former lover accused him of giving her herpes in a 1991 lawsuit, Terry was forced to provide Arkansas' Washington County circuit court with insurance papers.
READ THE SHOCKING COURT DOCUMENTS
In a 1988 application for life insurance, Terry noted that he only needed coverage for himself— not a family.
He also listed his mother, Lenora Jordan, and brother, Bobby Jordan, as beneficiaries.
Terry didn't include Amy anywhere— even though the little girl was 2 at the time he signed.
In a 2009 episode of the Duggar family's TLC reality show, Deanna said she and Terry "knew each other a long time ago, and I got pregnant with Amy."
It seems, however, that she may have been impregnated by a different man.
Deanna and Terry finally wed in 2006, when Amy was 20 years old.
Having a baby out of wedlock, especially with an unknown man, is very, very against the rules for Jim Bob's kids, who are not allowed to hug or kiss before marriage.