'Please God, Help Me' — Read Teresa Giudice's Prison Diary Confessions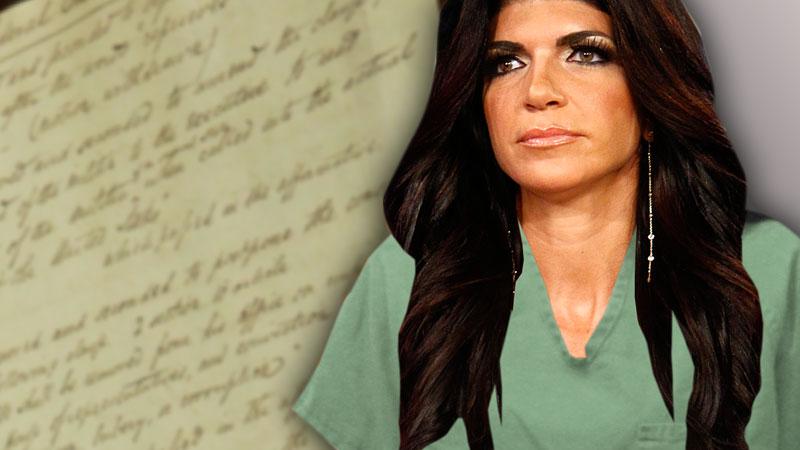 Teresa Giudice has been busy penning her experiences behind prison walls — and she plans to turn her personal diaries into a memoir.
The reality star jailbird has shared a portion of her writings, which detail her days spent avoiding bad prison food, exercising, emailing and even watching the Real Housewives series of shows while serving out her 15-month fraud sentence at the Federal Correction Institution in Danbury, Connecticut.
Article continues below advertisement
"It's going to be about growing up from humble beginnings," Giudice's lawyer, James J. Leonard Jr., tells US Weekly. "She will also tell the story everyone is dying to know: what life is like behind bars."
Among her revelations, Giudice pours out her heart about her family.
"I called the girls after school today. I miss them so much. They are all I think about all day long, and I pray that God helps me to go back home to be with my daughters and my husband. Please God, help me," Giudice writes in her powder blue journal of Gia, 14, Gabriella, 10, Miliania, 9, and 5-year-old Audriana.
To take her mind off her girls, Giudice reveals she watches movies like Jersey Boy and works out several times a day, often with old tapes from The Biggest Loser trainer Bob Harper.
"Went to Pilates at 5:30 to 6:30…Head count is at 9 pm," she writes in one entry from February. "After that going to watch Empire. Then going to call my girls."
But life isn't always so easy for Giudice. A diary entry from that same month details one especially disturbing incident she witnessed. "There is a lady in here, she hit her roommate," Giudice writes. "The officers are up here now to evaluate the situation. She is a crazy lady who fights with everyone."
And in March, Giudice discusses just how important simple pleasures have become for her — and her loved ones. "Joe and my daughters are coming. Took a shower…. Did my hair curly especially for my husband," she reveals in her journal. "He loves my hair curly."
Do you think Teresa will be a changed woman when she's released early next year? Weigh in with your thoughts in the comments below.