'RHOC': Vicki Gunvalson Meets With A Medium As Meghan King Edmonds Struggles With Parenting Stepdaughter Hayley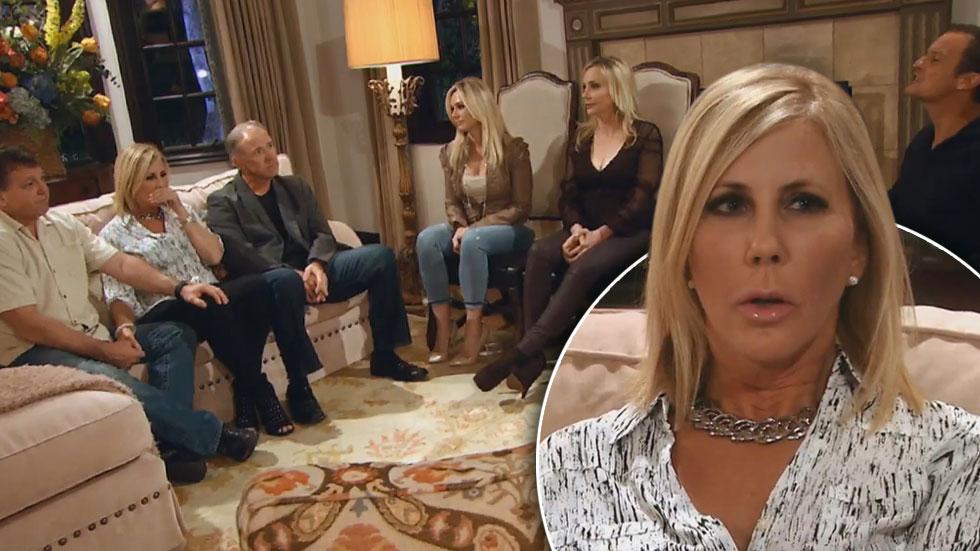 Vicki Gunvalson, coping with her mother's death, met with a medium on Monday's Real Housewives of Orange County, in which the ladies shaped up spiritually and physically.
On one side of town, Shannon Beador attempts to tone up her body and shed negativity over her troubled marriage, but the task proves to be rather difficult.
"Working out? Fricken nightmare," the housewife sighs about her training sessions. "It feels like hell!"
Article continues below advertisement
In the end, Shannon assures her trainer that she's "committed to a more peaceful and spiritual mind," but during a romantic Valentine's Day dinner, the 50-year-old admits to hubby David that she still has trouble fending off thoughts of his affair.
In the end, the two manage to remember their love for one another -- exchanging an emotional "I love you" over the table.
On the other side of town, new grandma Tamra Judge (who's in the headlines this week due to her son's recent arrest) has an interesting new workout video up her sleeve for her gym -- "quickie" fitness tips with dashing husband Eddie.
But mixing business and pleasure can be a bit of a challenge, especially for the powerhouse couple.
"Working with Eddie has been very difficult," Tamra says bluntly. "We opened up the studio together but since he's there more than I am, he thinks it's his business.
"It's getting annoying now!"
As the couple shoots the new video, their fighting becomes too much for them to deal with.
"I feel like you don't need me here," Tamra tells him.
Article continues below advertisement
"It's easier when you're not here, because we don't fight," Eddie admits.
In the end, the couple decides to preserve their romantic spark and separate their work life a little more.
Meanwhile, in an effort to heal after her mother's death, Vicki Gunvalson has a medium visit her home.
The psychic shares that Vicki's mother wants her to know her "dental work is all finished," something Vicki had scheduled just one week before her passing.
Floored, the reality star clutches her brother Billy in excitement.
Vicki's mother also approves of boyfriend Brooks, according to the medium, something that not all of her 'RHOC' pals can say of the cancer-fighting beau.
Watch the Video on RadarOnline:
Meghan King Edmonds continues to find her parental footing with stepdaughter Hayley, who she discovers has been skipping out on school.
Despite their easygoing relationship, Meghan admits that parenting is hard, especially when she comes across Hayley's unfinished homework.
Article continues below advertisement
"Did I not work with her enough? Is this my fault?" Meghan worries.
At the thought of it, Meghan breaks down in confessional, admitting that she feels like a failure when it comes to parenting.
"It's beyond frustrating," she says tearfully.
Luckily, the newcomer lightens up her mood for an old fashioned night out with the girls. The whole gang meets up, ready to rumble, as they head out for a night of bowling.
The fun comes to a screeching halt, however, when Vicki forgets that her mother has passed, insisting that she won't need a babysitter for an upcoming trip.
As she realizes her oversight, Vicki becomes emotional. But with the help of her girlfriends, the 53-year-old manages to muster her spirited self once more and finish the night off right.
"Going out and having fun, it really means a lot to me," Vicki shares. "That's what friends are for."
Watch the Video on RadarOnline
To top it off, Vicki has a surprise for her besties – a trip to Tahiti! Of course, we all know that that means there's plenty more drama to come!
The Real Housewives of Orange County airs Mondays at 9/8c on Bravo.