Girls' Getaway! Vicki Gunvalson Calls Meghan Edmonds A Gold Digger On 'RHOC' –– Watch The Drama-Filled Tahiti Trip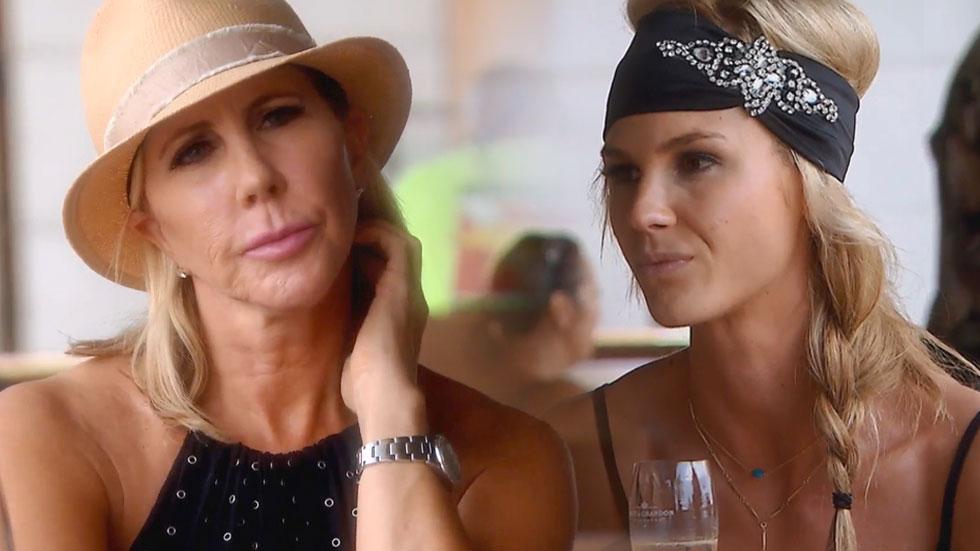 After the tragic loss of Vicki Gunvalson's mother, Meghan King Edmonds decided to lighten things up with a couples' game night on Monday's Real Housewives of Orange County.
Unfortunately, her husband, former baseball star Jim Edmonds, can't make it, which quickly sparks gossip among the girls.
"I just think it's weird that her husband isn't here," Shannon Beador whispers to show regular Lizzie as the party gets going.
Article continues below advertisement
But Shannon's assumptions soon come back to bite her, when Meghan accuses her of having "judgy eyes" over her decision to get Botox -- in her thirties.
To make matters worse, Shannon and husband David face yet another tough couple's therapy session the following day
"I think we're sharing more, but when things come up about the affair, things escalate," Shannon shares, wiping away a tear. "There's not a day that goes by that I don't think about it."
When asked where he stands on the matter, David answers that he simply wants to move on, and has no interest in discussing the affair anymore.
In the end, they both feel that they can improve their marriage and Shannon prepares for a relaxing getaway with the girls.
But when the ladies arrive in Tahiti, it's not the relaxing vacation they had hoped for: Trouble in paradise begins as Vicki hones in on Meghan's ongoing tiff with Shannon, as well as her quasi long-distance marriage.
Article continues below advertisement
"I've spent time with Meghan, and I would ship her off to California too if I was Jim," Vicki scoffs in confessional.
Watch the Video on RadarOnline
Later, Vicki goes head-to-head with Meghan over her choice to stop working.
"What's Meghan going to do when Jim moves on to wife number four?" Vicki asks. "That's how women get into trouble, they spend their husband's money without asking."
But Meghan isn't shy when it comes to facing "The O.G. from the O.C.," soon making it very clear that she was happy to quit her job for hubby Jimmy.
"If Vicki's calling me a gold digger, maybe she's jealous of my situation," Meghan says of the reality mogul. "I don't really care."
Watch the Video on RadarOnline
Real Housewives of Orange County airs Mondays at 9/8c on Bravo.