Ramona Singer Slams Heather Thomson For Not Promoting Her Jewelry Line While Carole Radziwill & Dorinda Medley Bond Over Late Husbands On 'RHONY'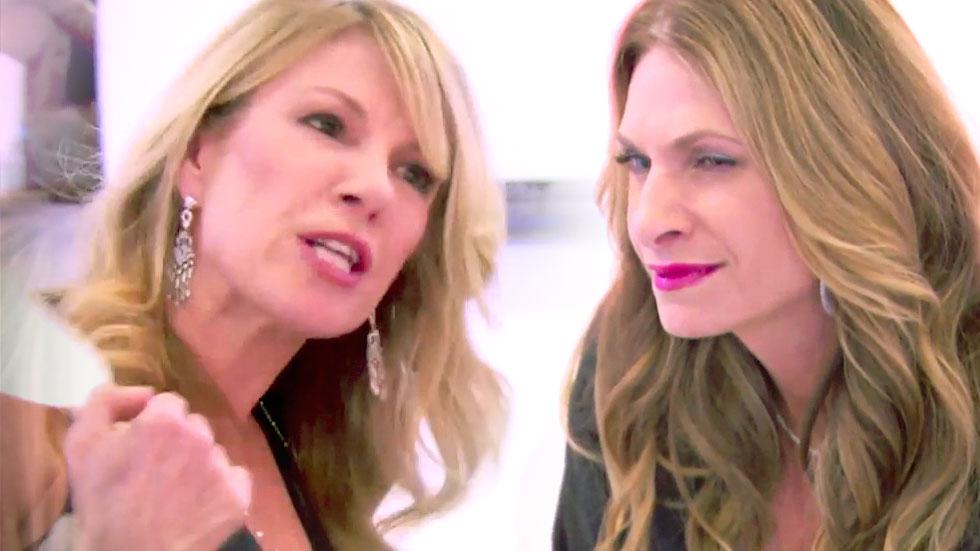 Ramona Singer confronted Heather Thomson for not helping with her jewelry line on Tuesday's Real Housewives of New York, while Carole Radziwill and Dorinda Medley bonded.
It was the battle of the brands on the episode, as Singer faced off with Thomson for promoting her Yummie clothing line -- but not Singer's True Faith jewelry collection -- at a charity event.
The drama kicked off with Radziwill filling Bethenny Frankel in on round two of Heather Thomson and LuAnn de Lesseps' explosive blowout from last week's episode.
Article continues below advertisement
"LuAnn made a dreadful fool of herself: the Countess is back," Radziwill said of de Lesseps, who tried to turn the tables on Thomson after she was confronted for allowing a strange man to sleep next to Heather's room at their Turks and Caicos vacation home. "This is what she was screaming: 'How dare you storm into my room? How dare you not wait until I wake up?'"
Coming to de Lesseps' defense, Frankel suggested that maybe she felt Radziwill and Thomson were trying to "walk in and catch her red-handed."
"No one was trying to bust her," Radziwill explained. "We wanted to know what happened last night."
Although de Lesseps was civil to Thomson at Kristen Taekman's Denim and Diamond charity event, the same couldn't be said for Singer.
As Thomson's Yummie jeans that the women decorated on last week's episode were being auctioned off for charity, Singer looked around the room and noticed that Thomson's clothing brand was promoted, but her True Faith jewelry line wasn't, even though she donated necklaces.
Article continues below advertisement
"Where's the True Faith?" Singer asked Sonja Morgan. "This necklace is worth more than her jeans. I know this is charity, but this is like an $80 necklace her jeans are what, $40?
"I'm donating about six necklaces and I'm looking around I see Heather's name, I see the charity's name … this is a slap against sisterhood, it's not nice."
Thomson told Singer after being confronted by her: "Go take a walk. Honestly, goodbye."
Singer responded, "All you could say is 'Ramona, I'm sorry."
"I'm not sorry," Thomson said, as she added in her confessional, "She's ridiculous. I don't even want to give it that much air."
When Singer said that she wasn't trying to attack Thomson, Radziwill replied, "You do seem like you're attacking her."
Singer fired back, "Stop being her lackey!"
Watch the video on RadarOnline.com
But Radziwill didn't spend the entire episode arguing with Singer, as she anxiously prepared for her trip to London to pick up her late husband Anthony's ashes with Medley.
Article continues below advertisement
Before the women embarked on the emotional journey, they stopped by a psychic who reads coffee grinds.
The psychic said to Radziwill, "Someone coming back from your past. For some reason he's apologizing. This person for me is like a husband who passed away."
When she explained how her late husband is always around to protect her, Radziwill said that she feels "much calmer" about the trip and that she knows it's the "right thing to do now."
As Radziwill and Medley waited for their plane to board, they opened up about their late husbands over cocktails.
"I thought when I brought the urn to London it was in the perfect place, beautiful church where his father was buried and here I am 15 years later going back to London to get that urn," Radziwill said of her husband, who she met when the two worked at ABC.
She then explained how they shared a house with his cousin John F. Kennedy Jr. and his wife Carolyn Bessette-Kennedy, who passed away in a plane crash in July of 1999, only three weeks before her husband's death.
Article continues below advertisement
"Three weeks before John's plane crash and Anthony's death were probably the three hardest weeks I'll ever have in my life," she said in her confessional. "The summer of '99 was not a good time for me."
Despite the illness, Radziwill said that his cancer never defined their marriage and that they "lived an extraordinary life."
Watch the video on RadarOnline.com
After hearing her open up, Medley discussed how this is the first time she's visiting the city since her husband Richard's death.
"This was such a great opportunity to go with you because I can get through this and maybe I'll start going back again," she said. "I got to make it my London again."
The Real Housewives of New York airs Tuesdays at 9/8c on Bravo.