Meghan Edmonds Calls Vicki Gunvalson 'Manipulative' & 'Insecure' –– Vows Their Feud Is 'Not Going To End Soon'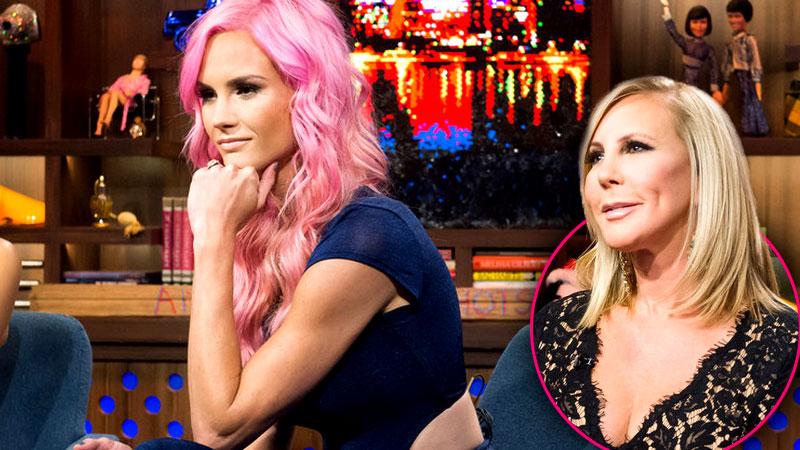 Meghan King Edmonds had nothing nice to say about Vicki Gunvalson on Monday's Watch What Happens Live, calling the show's original cast member "manipulative" and insecure.
Meghan was asked by a caller about her ongoing rivalry with the Real Housewives of Orange County's longest-tenured cast member -- specifically, Vicki's speculation on her marriage to former MLB All-Star Jim Edmonds.
As RadarOnline.com previously reported, on Monday's episode, tempers flared when Vicki called into question the amount of time Meghan and Jim spend apart, as well as Meghan not having a job due to her jock husband's wealth. (In classic Vicki fashion, she asked, "What's Meghan going to do when Jim moves on to wife number four?")
Article continues below advertisement
The caller also noted Vicki's own defensiveness when it comes to her relationship with boyfriend Brooks Ayers -- which was not lost on Meghan.
"I think it's pretty clear what's happening there," Meghan said. "It's a deflection: it's some kind of insecurity that is playing out as an attack on me.
"I can handle it, so I think that's why she continues to come after me."
The pretty, punchy housewife added of her hard feelings with "The O.G. from the O.C.": "It's not going to end soon."
Watch the video on RadarOnline
Meghan also got in another dig at Vicki during a word-association bit on the show, calling the veteran reality star "manipulative."
Meghan sported bright pink hair on the outing, which she defended as a trend-setting summer style.
"Pink is the new blonde," she said. "I'm bringing the O.C. … and a little hipper."
She added that the recent death of Jim's ex wife Lee Ann Edmonds Horton from colon cancer also inspired her to make the bold move.
Article continues below advertisement
"Lee Ann passed away just a few days ago and I was thinking, 'Why not?' It's hair. You can always change hair," she said. "It's fun -- life's short."
Watch the video on RadarOnline
She added of Lee Ann: "It was not a sudden death but it was a tragic death: Everybody's feeling a lot of pain and grieving in their own way.
"We're trying to celebrate her life and look forward to the future and just really cherish who she was."
The Real Housewives of Orange County airs Mondays at 9/8c on Bravo.