Exclusive
'I Know What I'm Doing' — Chilling Mission Of Homegrown ISIS Terrorist Uncovered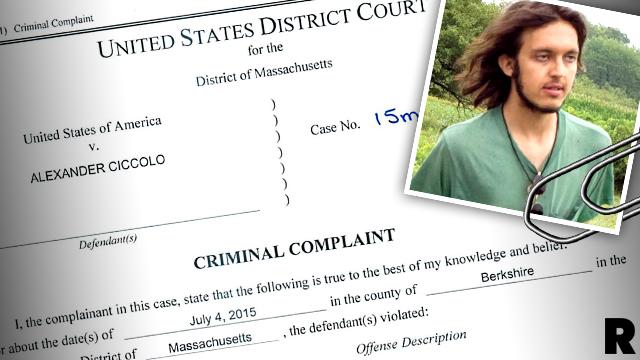 Terrifying court documents obtained by RadarOnline.com revealed the ISIS-obsessed son of a police captain planned a vicious and calculated assault on gay Americans!
"I know what I'm doing," Alexander Ciccolo, 23, told an undercover agent, according to a shocking FBI affidavit that detailed his desire to execute homosexuals at an unnamed college campus.
"That is our target! I collected a lot of info on this place," Ciccolo told the agent. "It supports the f****ts, so even better to destroy them."
Article continues below advertisement
The papers also revealed Ciccolo, who was calling himself Ali Al Amriki, invited the agent to participate in the attack, and asked him to help secure supplies for his twisted mission.
"I want tons of ammo!" Ciccolo said, referring to an attack on a university with a large gay population, according to the documents.
Ciccolo was busted at his home in Adams, Mass., on July 4, after the undercover agent delivered a cache of guns from a joint terrorism task force, according to the documents.
The FBI was tipped off to Ciccolo's dark plans last September by his own father, Boston Police Captain Robert Ciccolo.
The shaken officer told counter-terrorism agents his son was "going off the deep end."
His fears were well founded, and the tip triggered a 10-month sting operation. During that time, Ciccolo was in constant email contact with the undercover agent, who posed as an ISIS operative to draw out his dark plans for mass murder.
Article continues below advertisement
The court documents also described Ciccolo's detailed plans to build a bomb using a pressure cooker.
In his own casually disturbing words, Ciccolo allegedly said: "You take a pressure cooker … fill it up with black powder … and ball bearings, nails, glass, rocks … you know."
But he also indicated he wanted quality firepower.
"Really need the guns. You get the rifles, I'll get the powder," he allegedly said. Ciccolo vowed to become a martyr for his twisted mission, writing, "We win or we die!"
But when he was cornered by agents, the ISIS-loving coward gave up without a fight.