Examples Of Coke Use! Lindsay & Dina Slammed By Fox News Commentator In Defamation Suit -- Claims 'Enabler' Is Free Speech!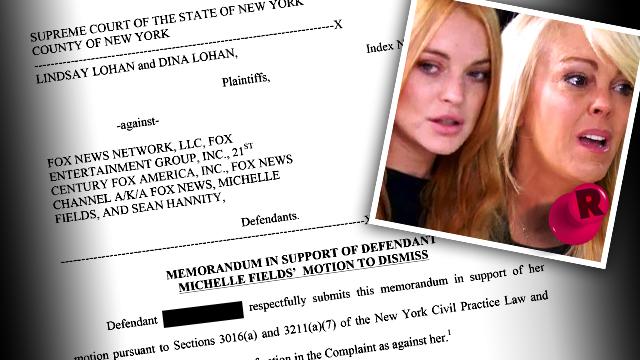 Lindsay and Dina Lohan's efforts to protect their pristine reputations from allegations of cocaine abuse just hit a huge roadblock.
The troubled actress and her drunk driving momager are suing Fox News, host Sean Hannity and commentator Michelle Fields for defamation, claiming that Fields stated as fact that Lindsay and Dina did cocaine together. Exclusive court documents obtained by RadarOnline.com reveal that the defendants have hit back with a response, asking the judge to throw out the suit and providing multiple examples of times the two have been in the media for doing cocaine.
Article continues below advertisement
Lilo and Dina claimed that during Hannity's show a discussion between commentators focused on the death of Philip Seymour Hoffman and other celebrities with drug problems. The panel began talking about which celebrity would be the next to die from addiction and Lindsay's name came up.
Lindsay and Dina sued, claiming Fields had ruined their good names and lost them future jobs and income. They demanded unspecified amounts of damages for the alleged incident.
However, on June 30th Fields blasted the Lohan's lawsuit claiming she did nothing wrong by calling Lilo's mom an enabler.
"Of course, Lindsay Lohan herself earlier had reported to her father Michael Lohan in a frantic tape-recorded conversation heard around the world that her mother Dina had done cocaine while in a car with her coming home from a mother-daughter night of clubbing in Manhattan," the documents claimed about a report from an October 2012 incident.
Article continues below advertisement
Further, Fields notes: "During a television show called 'The Test,' an entire episode of which was devoted to the sad Lohan family dysfunction, Dina Lohan stormed off the show upon being accused of having taken cocaine with her daughter, without submitting to an agreed-upon lie detector test, even though she had been paid to appear."
And referencing a RadarOnline.com exclusive report, Fields states: "Even earlier, the country heard a tape-recording of father Michael Lohan on a Tampa radio show complaining on February 25, 2011 about his ex-wife being an enabler and having done cocaine with their daughter Lindsay."
Fields said she was speaking about the topic of celebrities tragically dying to drugs on Hannity's show and argued that everything she said is protected by the First Amendment. She explains that the term "enabler" is an opinion and is not something she can be sued for defamation over.
"Applying the above legal principles, statements to the effect that Dina Lohan is an "enabler" clearly fall within the realm of protected opinion," the documents note.
Fox News, Hannity and Fields are all demanding Lindsay and Dina's lawsuit be thrown out and that they be awarded nothing from their complaint.