Mom From Hell! Disheveled 'Teen Mom' Leah Messer Screams, Swears At Jeremy Calvert In Front Of Daughters, Ignores Screaming Kids: Watch The Shocking Video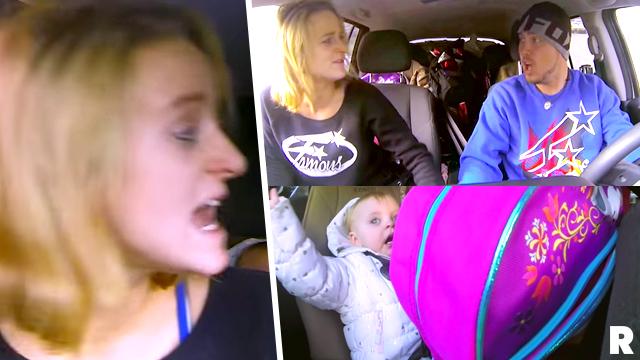 Despite the drug abuse rumors that have followed her for more than a year, Leah Messer has managed to keep it together onscreen this season of Teen Mom 2, acting like a dutiful wife and mom.
Until now.
In a preview clip from the upcoming episode of the MTV hit show, the twice-divorced mother of three, 23, appears scattered and disheveled as she prepares daughters Aleeah, 5, and Adalynn, 2, for the big sister's cheerleading competition. (Then-husband Jeremy Calvert's mother is watching Aleeah's twin, Ali.)
Article continues below advertisement
Taking care of the girls has been really overwhelming lately," Messer admits in the voiceover. "And it's starting to put a strain on me and Jeremy."
While running late for Aleeah's competition, the makeup-free mom snaps at Calvert in the video, filmed last winter.
"Help me out with these hoodlums!" she says.
Calvert then tells her she needs to clean out her car.
The family crowds into Messer's extremely messy Jeep, and a backpack falls on poor Adalynn, who begins to scream.
But mommy and daddy are too busy fighting to notice.
When Calvert claims Messer's disastrous car could put the kids in danger, the reality star flips.
"Why would you even say such a God damned thing. That's f***ing ridiculous," she screams, her eyes glazed over.
"Mommy!" Adalynn shouts, with a backpack and jacket covering her face.
Calvert continues lecturing her on the importance of cleaning up the car.
Article continues below advertisement
"Can you shut up? You know what? F*** you," she says, slurring her words "Shut up!"
Aleeah looks horrified in the backseat.
As RadarOnline.com readers know, Messer was shipped off to rehab a few months later, and Calvert wound up following through with his November divorce filing. The split was finalized in June.
Though she claims she went to treatment to cope with depression and anxiety, sources tell RadarOnline.com the troubled star really needed to deal with a longtime prescription painkiller addiction.
Watch the upcoming episode of Teen Mom 2 on MTV Thursday at 10 pm est, but first catch the clip below.