Exclusive
Teresa Giudice 'Furious' As Joe Goes On Date With Another Woman The Night Of Daughter's Graduation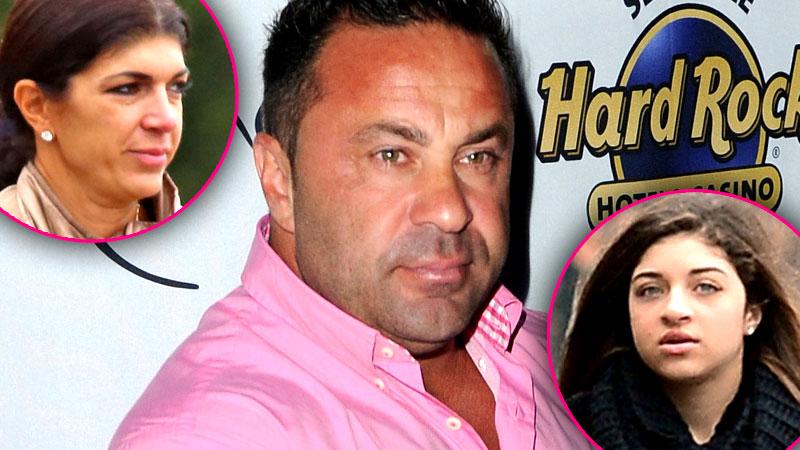 While the Teresa Giudice is away, her husband Joe Giudice will step out and play. With the Real Housewives of New Jersey star serving a 15-month prison sentence for fraud charges, insiders tell RadarOnline.com that Joe has been spotted out partying it up again with a strip club employee.
A friend of Teresa's tells Radar that after his daughter Gia's middle school graduation In June, instead of heading home to celebrate with his kids, Joe decided to spend the evening with the younger woman.
Article continues below advertisement
"When Joe was done with Gia's graduation, instead of staying with his family, he took his friend on a date to Rare The Steak House in Little Falls, NJ," the source says.
Joe and the woman reportedly arrived at the restaurant around 8:30 PM and didn't leave until late in the evening.
"They were partying their butts off," the friend says. "They were drinking wine and he was acting cozy enough with her that people took notice and were appalled."
Meanwhile, this type of incident has become a regular routine, according to the insider.
"He goes out with his friend several nights a week," the pal says. "And Joe's sister, mother, and sister-in-law have been watching the girls while he goes out to party."
Rare — the same restaurant he used to go to with Teresa — has also become a regular spot for these type of outings for Joe, says the source.
"He goes there often, and the people recognize him and are appalled because they know he used to frequent the place with Teresa and her family," the source says. When contacted by Radar, an employee for Rare refused to comment.
Article continues below advertisement
So how do his daughters feel about their father's regular absences?
"They're devastated," the source says. "Gia and Gabriella know what's going on. The younger ones have meltdowns, especially when Joe goes out a lot, crying, 'When is mommy coming home?'"
"They miss their mother to begin with and then the father not being there on top of that is not very nice," the source says.
"She's emailing Teresa telling her that Joe's out, but not saying he's out with a girl," the source says. "Gia is trying to protect her mother because Teresa is in jail and Gia doesn't want her to get physically ill over it, so she's trying to cover it up."
But despite Gia's attempts to cover up her father's actions, Teresa still knows what Joe is up to, the source claims.
"Teresa reads magazines and watches TV, and there are a lot of snitches, so she knows everything that's going on," the source says, and she's not happy.
"First to start out with the fact that he's leaving the girls all the time, that made her furious," the friend says. "And then to find out that it's with the same girl that he keeps meeting — this young girl that he met at a strip club — she's finally getting it in her head that he's been cheating on her."
"She's embarrassed, she's humiliated, and she's tired of it," the source concludes.
As Radar reported, he was spotted on a date with strip club bartender Samary Graulau in April in Newark.