'I Stood By A Man I Respected And Loved -- I Was Wrong': Singer Jill Scott No Longer Supporting Bill Cosby After His Shocking Revelations In '05 Court Docs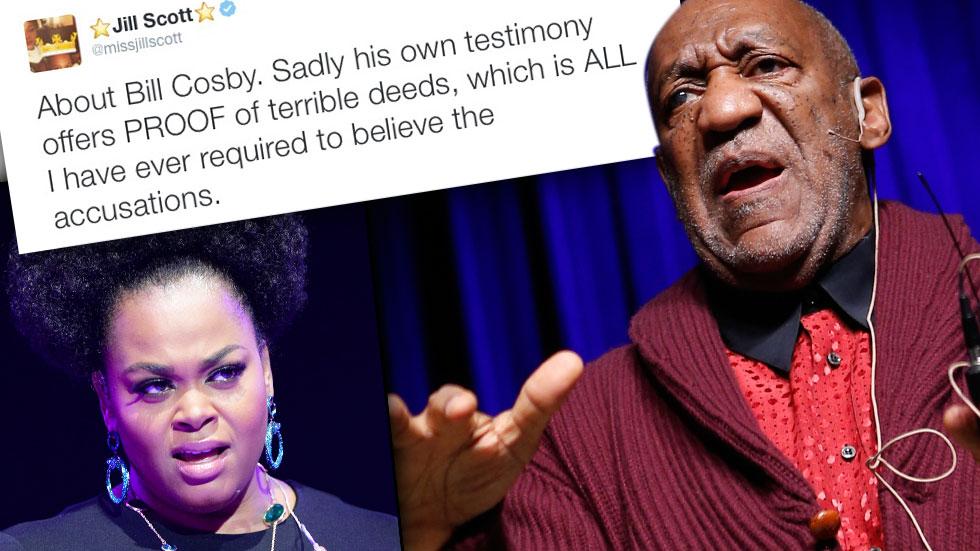 Singer Jill Scott turned on longtime friend Bill Cosby Monday after a series of 2005 court docs were released in which he admitted to buying Quaaludes to give to women.
Scott unleaded on The Cosby Show star who she previously defended, in a series of tweets after the jarring revelation went public.
"I stood by a man I respected and loved. I was wrong. It HURTS!!!" she wrote of Cosby, who's been accused by more than 30 women of drugging and raping them.
Article continues below advertisement
She went into detail about her change-of-heart.
"We live in America. Many African American men are detained &/or imprisoned for crimes without evidence," she wrote. "I will never jump on bandwagons based on social media or hearsay. Proof will always matter more than public opinion. The sworn testimony is proof. Completely disgusted."
Scott said she was convinced of Cosby's wrongdoing as "his own testimony offers PROOF of terrible deeds, which is ALL I have ever required to believe the accusations."
Watch the video on RadarOnline.com
Scott initially pledged her support for Cosby in November after a Twitter follower asked her to add her name to a list of people who wanted Temple University to distance itself from the entertainer.
At that time, she tweeted, "So they've proven the alleged allegations? I didn't know. Will they also be giving him back the millions he's donated?"
She later added that the series of accusations was "insane," based on the Cosby she personally knew.