And They're Off! Jill Duggar & Derick Dillard Head Out For Their Mission Work Overseas With Baby Israel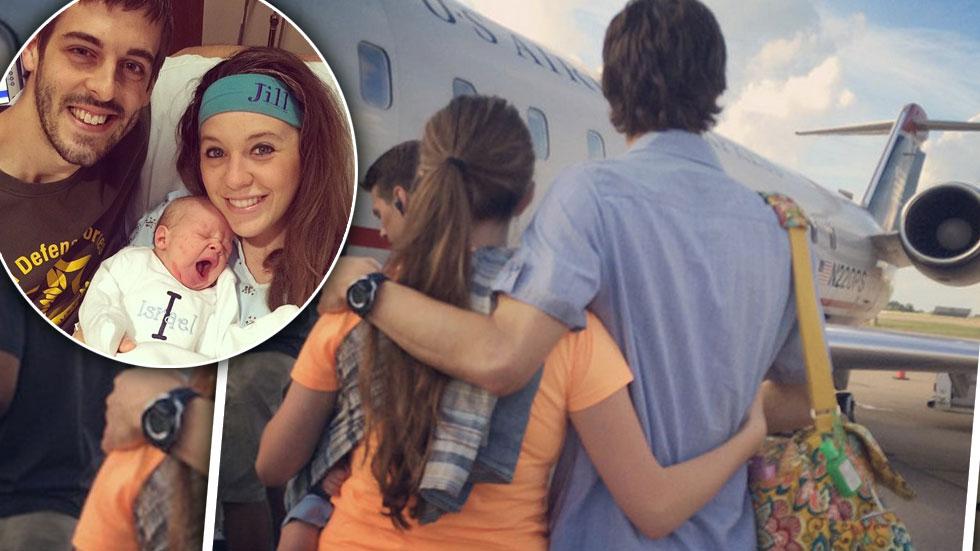 Starting a new chapter!
Just after celebrating their anniversary, Jill Duggar and Derick Dillard made their way to the airport Sunday morning with baby Israel to begin their mission trip far away from any Josh Duggar drama.
While the couple hasn't revealed their mission destination, many fans have speculated that Nepal could be their new home for the foreseeable future.
"So excited for @jillmdillard & @derickdillard! They've been praying about and working towards this transition since late last year, and are so excited to finally be heading to the mission field!" sister Jessa Duggar wrote on Instagram. "Please continue to pray for them!"
Article continues below advertisement
She continued with a biblical quote and call-out to the clan's website: "Be sure to check out their blog at www.dillardfamily.com. 'Go into all the world and preach the gospel to every creature.' Mark 16:15."
https://instagram.com/p/4xH2ADDftA/
In a recent blog post, Dillard shared that while their trip would be challenging, it will also be a rewarding experience.
"We have a deep love and care for all of the world and a real passion for those in the nations, as many have even seen in the early stages of our relationship," he wrote. "Our hope is that all peoples of the world would come to repentance and put their hope in the Lord, Jesus Christ."
As for income in the future, RadarOnline.com has learned that on June 17 the couple secretly filed to incorporate their own new business: Dillard Family Ministries.
"This is how the two plan on supporting themselves since Derick quit his job at Walmart," reveals a source.
Good luck to the Dillards on their journey!