Reactions Pour In As Hulk Hogan's Fired From WWE After Radar's Exclusive N-Word Story –– Disgraced Star Refers To Ongoing 'Storm' In Cryptic Tweet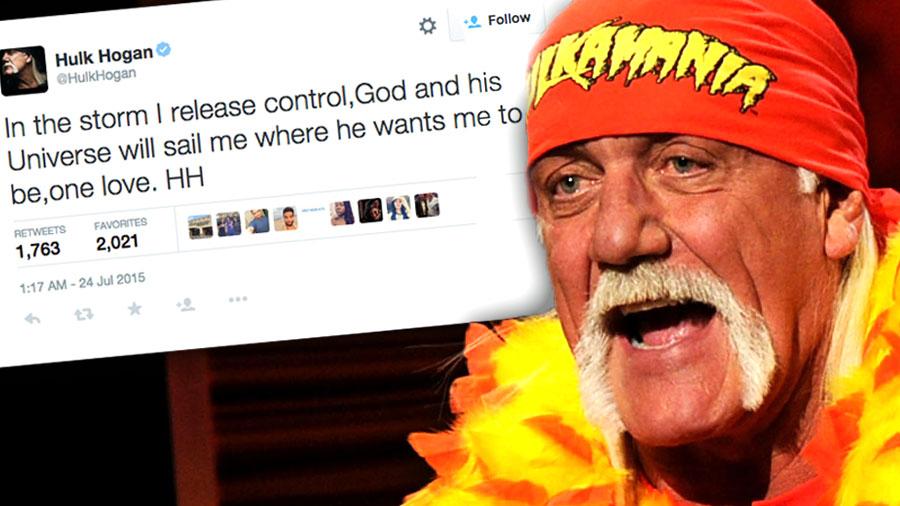 Reactions are trickling in after RadarOnline.com and The National ENQUIRER's shocking joint report of Hulk Hogan's racist comments, and his subsequent firing from WWE.
Hogan, a born-again Christian, took to Twitter late Thursday as WWE was removing him from their website, looking at the situation from a spiritual perspective.
He wrote, "In the storm I release control,God and his Universe will sail me where he wants me to be,one love. HH."
Article continues below advertisement
Former WWE star Phil "C.M. Punk" Brooks viciously tangled with Hogan in a hockey-fueled Twitter rant earlier this summer when Hogan was supporting his hometown Tampa Bay Lightning to Punk's beloved Chicago Blackhawks. Riffing on the earlier rivalry, Punk re-tweeted a follower who wrote, "Now we know why he doesn't like the BLACKhawks."
He wrote in his own post, as news was breaking: "I never want to sleep because I'm afraid I'll miss something, but I'm good right now. El oh el. G'night hilarious world. Stay cool."
WWE Hall-of-Famer Booker T held little back in his estimation of the situation.
"I am shocked by the statements made by Hulk Hogan," he wrote. "It's unfortunate, but that's something that he's going to have to deal with."
Mike "Virgil" Jones, a pro wrestler (who is black) from Hogan's glory years of the 80s and 90s, took to defend the beleaguered star, writing, "Don't be takin @HulkHogan words out of text. That man has done more for me than almost anybody man." (The post was later removed.)
Article continues below advertisement
As RadarOnline.com previously reported, WWE immediately removed all references of Hogan from its website, and issued a statement saying, "WWE terminated its contract with Terry Bollea (aka Hulk Hogan). WWE is committed to embracing and celebrating individuals from all backgrounds as demonstrated by the diversity of our employees, performers and fans worldwide."
Wrestling journalist Dave Meltzer reported that the WWE eliminated "all mentions of Hogan, including as an Alumni or as a Hall of Famer, in addition to his merchandise," took him off the show Tough Enough and ended a parody gimmick current star Curtis Axel was wrestling under.