Feel The Burn This Summer! Find Out Why Zumba Shreds More Calories Than Kickboxing Or Most Other Workouts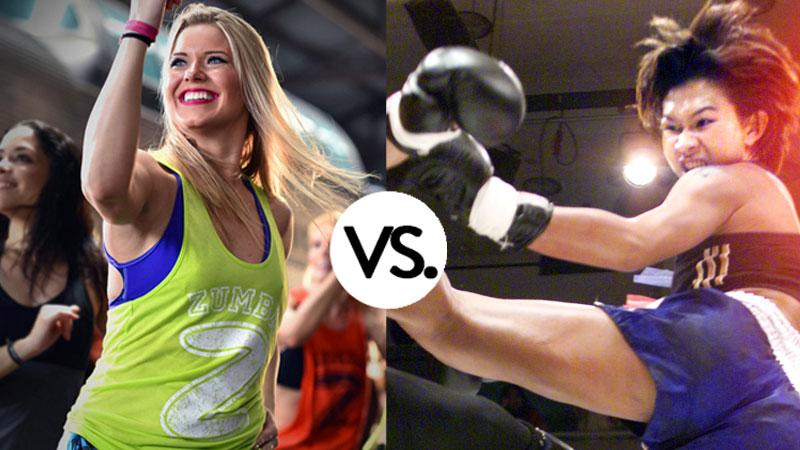 When it comes to cardio, burning the most amount of calories in the shortest amount of time is everyone's goal and there's one proven workout that does it with a little bit of fun.
Zumba is the Latin and International dance-inspired cardio that can blast up to 1,000 calories in a single session.
And according to a study by the American Council on Exercise, one Zumba class is equivalent to a HIIT-style workout, which burns more calories than a steady-state exercise like jogging (bye bye, treadmill).
Article continues below advertisement
But why exactly does Zumba have such staying power? RadarOnline sat down with Gina Grant, celebrity Zumba Instructor, to find out.
Gina has starred in and been featured on the cover of many Zumba DVDs and the world's best selling fitness video game franchise. She travels the globe training instructors and teaching classes and learning what really makes students fall in love with the workout.
"The Zumba program is really just a big party, and the icing on the cake is that you happen to burn a lot of calories," says Grant. "Throw in contagious music, with a mix of fast and slow rhythms, and before you know it, you'll have a long, lean and sculpted body."
She gives us 5 reasons why Zumba is such an effective workout for mind and body:
1. Dancing is one of those human essentials in life that everyone really enjoys. As long as you have a heartbeat, there's a rhythm within you. When Bruno Mars "Uptown Funk" comes on, you just can't help shaking those hips and tapping those feet. Let's do it together in a Zumba class. It's really just exercise in disguise.
Article continues below advertisement
2. The Zumba formula is really easy and really fun to follow. I've had students start in the back of the room, and before the hour is over, they're up front smiling ear to ear. It feels like you're dancing the night away at your favorite club.
3. It's so effective. You really work out your core and other muscles that you're not used to using. We incorporate squats, lunges, abs, and more so it's safe to say you'll feel sore the next day. BUT, unlike other boot camp style classes, you won't dread coming back because Zumba is actually FUN.
4. It's a proven fact that dancing can affect your mind and body in a positive way, and Zumba does just that. The more classes you take, the more you'll notice yourself smiling when you catch a glimpse in the mirror. Many of my students have battled depression and through Zumba and the friends they make in class, they have overcome it.
5. Zumba classes are a judgment-free zone. No one cares if you're getting the moves right or if you're nailing the choreo. All that matters is that you're willing to get up and dance and that you're willing to let loose and have fun for just one hour of your day.
That must be why 15 million people include the dance-party workout in their schedules every week.
Zumba is offered at more than 200,000 locations in over 180 countries. You can take classes at some of your favorite gyms, like Equinox and 24 Hour Fitness, by visiting Zumba.com.