Terrence Howard's Ex-Wife Sues Him For Assault, Defamation -- Kicks, Punches, And Pepper Spray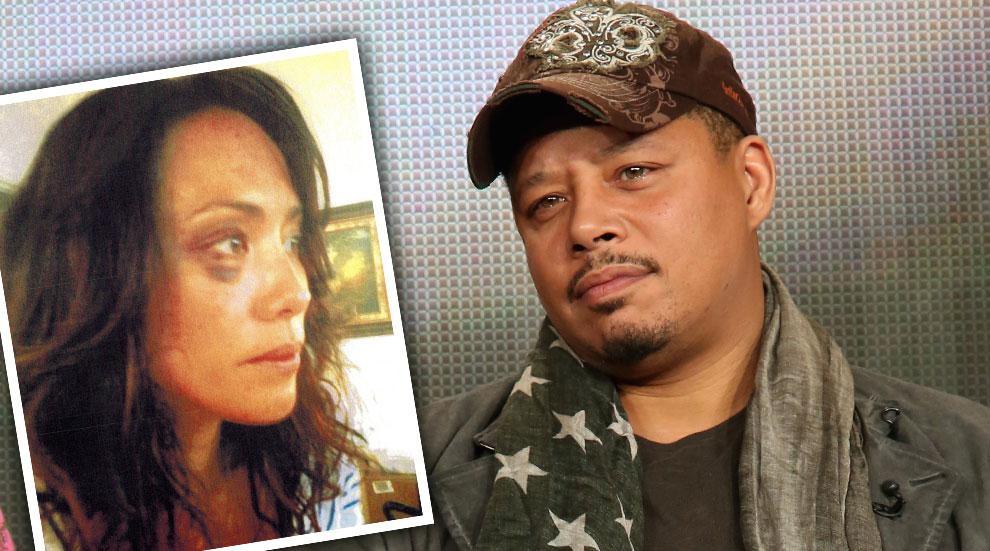 Michelle Howard filed suit yesterday against her ex-husband, Empire star Terrence Howard, alleging that he had kicked, punched, and strangled her during a July 2013 vacation in Costa Rica.
According to the complaint obtained by The Hollywood Reporter, Terrence, "followed Plaintiff into the restroom of the rental house and punched her on the left side of her face. Defendant also grabbed Plaintiff by her neck and pushed her against the bathroom wall and strangled her for several seconds." Then, the report continues, Terrence"grabbed her neck again and pinned her against the shower glass and her head hit the wall." After that, the complaint says that Terrence's son-in-law Billy attempted to intervene.
Article continues below advertisement
"While Billy tried to pry Defendant's hands from Plaintiff's neck, Defendant whispered to Plaintiff, 'Remember what I told you in Bora Bora? That is what I'm gonna do,' referring to a prior instance where Defendant told Plaintiff that her body would never leave the island," the complaint said. "Plaintiff interpreted the reference to mean that Defendant was going to kill her."
Later in the evening, Michelle says she pepper-sprayed Terrence in the face after he charged at her. He then allegedly continued to attack. "Defendant continued swinging his arms and caused Plaintiff to fall down. While Plaintiff was on the ground, Defendant repeatedly mule-kicked Plaintiff in the head and shoulders."
EXCLUSIVE AUDIO: Hear Terrence Howard's Death Threat Voicemail Message
Terrence has been married four times -- two of those times to the same woman, Lori McCommas. In 2001, he was arrested on charges that he had assaulted McCommas. The couple divorced for the final time in 2007.
Michelle married Terrence in 2010, and filed for divorce in 2011. The end of their marriage was finalized in 2013, and in the same year, RadarOnline.com reported he secretly married in then girlfriend, Miranda.
Article continues below advertisement
The lawsuit filed Tuesday asks for unspecified damages for assault, battery, and intentional infliction of emotional distress. This development is only the latest in the couple's tumultuous relationship. In Michelle's divorce documents, she accused Howard of threatening and hitting her during the course of their marriage. Following the Costa Rica incident, Michelle requested and received a restraining order that required Terrence to stay 100 yards away from her. Then, in May 2015, Terrence filed court documents alleging that Michelle attempted to extort money from her ex-husband by threatening to release naked pictures revealing his teenie penis, even though Terrence did full frontal nudity in a past film, rendering the issue moot.
Terence did not respond to The Hollywood Reporter's requests for comment on yesterday's court filing, but has said in the past, "A lot of the things I did were the product of not knowing how to deal with frustration, not knowing who Terrence Howard is... I've grown so much from anything that's happened in the past."