Outrage! Sicko Church Shooter's Sister Asks For Donations To Cover 'Destroyed' Dream Day — And Send Her On Honeymoon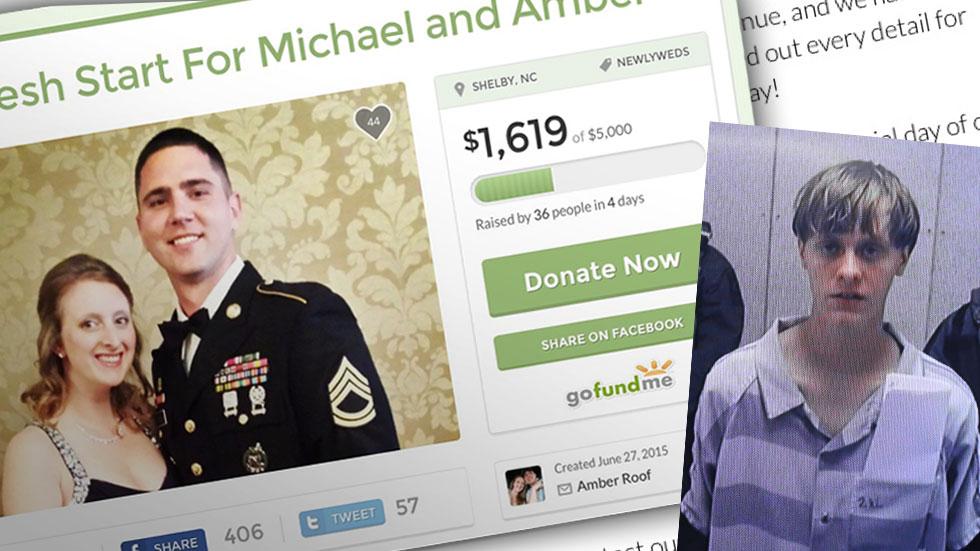 The sister of mass murderer Dylann Roof has started a GoFundMe campaign to ask friends and family to pay for her canceled wedding costs — and to send her on a honeymoon.
Amber Roof posted a photo of herself with her fiancé Michael Tyo under the headline "A Fresh Start For Michael and Amber." The page shows a goal of raising $5,000.
"As many of you know Michael and I had to abruptly cancel our wedding day, due to the tragedy that occurred in Charleston," she writes in a message on the page, referring to the day her brother gunned down nine people in their Charleston, S.C., church.
Article continues below advertisement
"June 21st was suppose to be the happiest day of our lives. It is the day every girl dreams of, it was the day we dreamed of. We had each other, we have the perfect venue, and we had our vows ready to be read. We were ready! We had planned out every detail for months and months. It was going to be the PERFECT day!" she wrote.
"Our day was the exact opposite. Our wedding day was full of sorrow, pain, and shame, tainted by the actions of one man," Roof, 27, notes, saying her sibling's sick actions were responsible for "destroying the first day of Michael and my life together."
While Roof and Tyo explain that they "know money cannot replace the wedding we lost and our perfect day," they hope the donations "will help us to create new memories and a new start with our new family."
Despite promises to give 10 percent of the total money raised to Emanuel African Methodist Episcopal Church, the congregation her brother tried to destroy, not everyone is thrilled with Roof and Tyo's campaign, which had raised less than $2,000 by Thursday afternoon, four days after the page was posted online.
Article continues below advertisement
"This has to be the most self-centered and insensitive fundraising page I've ever encountered and I'm shocked that gofundme hasn't erased you from their existence already!" blasted one woman in a message on the campaign's page. "I can't imagine the anguish and sorrow that your own brother has inflicted on so many wonderful and kind people and all the while, you are fantasizing about letting others fund your honeymoon!!"
Another sniped: "THE NERVE OF YOU!!! If its just about getting married then go to the court house. But how dare u set up a gofundme under these circumstances."
Still, others were more understanding.
"Dont listen 2 all them pigs wollerin in the mud, have yall selfs a nice trip," commented one person.
Another wrote, "Me and my partner finally have the opportunity to legally get married after dating for 5 years. I can not imagine how upsetting this would be. Please accept my small donation as a token of my support."
UPDATE:
Roof took down the page on the afternoon of July 2.
What do you think of Amber's request — perfectly understandable or in bad taste? Weigh in with your thoughts in the comments below.