Sick! Florida State Quarterback De'Andre Johnson Caught On Camera Punching Woman In The Face At Bar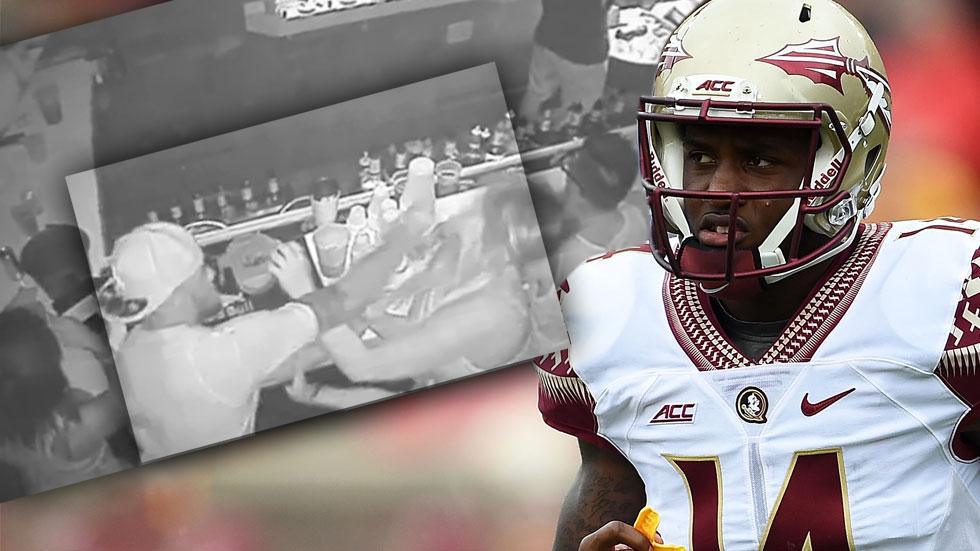 Florida State cut De'Andre Johnson from its football program Monday, after prosecutors publicly released security video footage of the jock punching a woman at a bar.
The freshman quarterback, who was suspended in connection with the incident June 24, was cut "effective immediately," according to Head Coach Jimbo Fisher.
In the clip, Johnson and a woman were seen attempting to slide into a spot at a crowded bar Yiannis. After Johnson made contact with her from behind, the woman raised her hand toward the football player. Johnson grabbed her fist, at which point she tried to smack him with her other hand, and he punched her in the face.
Article continues below advertisement
Tallahassee police said that the woman, whose nose was seen bleeding in the graphic clip, had a bruised left eye, as well as a swollen lip and cheek.
WARNING: Video Contains Graphic Content
The 19-year-old -- who was arrested last Thursday, and released on bail in the incident -- is charged with misdemeanor battery in the incident.
His lawyer Jose Baez (of Casey Anthony fame) said Monday, "While it is clear from the video that De'Andre Johnson was not the initial aggressor, his family wants to take the lead in helping him learn and grow from this experience.
"He is currently participating in community service, and faith-based programs focused on battered women, substance abuse, and the empowerment of children."
An "extremely embarrassed" Johnson wanted to extend "his heartfelt apologies to everyone, including those who were directly affected," Baez said.