Casey Anthony Uses Bankruptcy To Stiff Her Lawyer Jose Baez For Almost $400K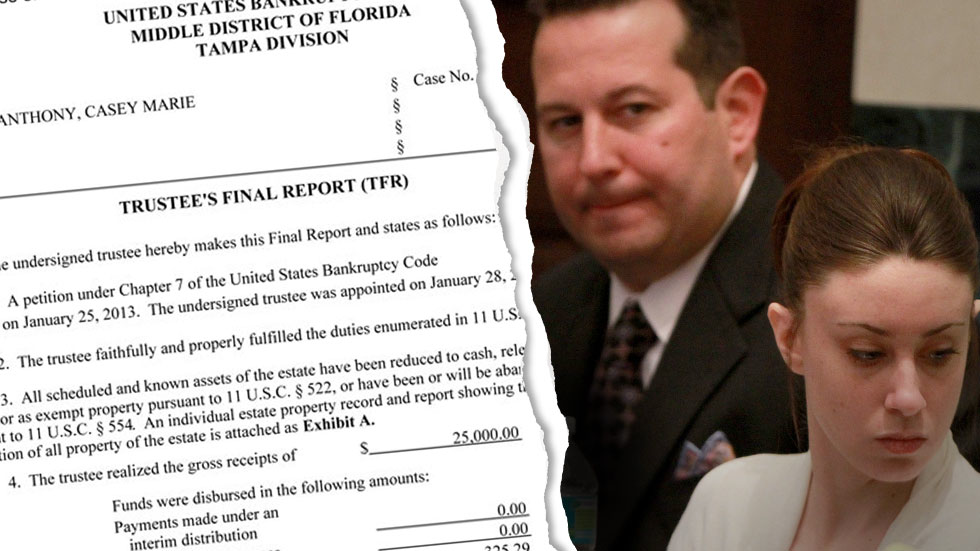 The lawyer who successfully defended "Tot Mom" Casey Anthony in her murder trial has been officially stiffed to the tune of $397,000, according to court documents exclusively obtained by RadarOnline.com.
The final report from the trustee overseeing 28-year-old Anthony's bankruptcy proceedings shows that attorney Jose Baez got nothing from the Chapter 7 settlement. The $25,000 raised by selling the intellectual property rights to Anthony's life story went to pay the bankruptcy trustee and his lawyers, the document states.
Article continues below advertisement
Anthony gets to keep $500 worth of personal property, including clothing, jewelry, a camera, her bike and some household furnishings. She can also keep the $474 in cash she claimed to have when she filed for bankruptcy in 2013, the document says
Anthony listed 80 creditors to whom she owed money, totaling $800,000, with Baez having the biggest claim. She also owed the IRS $32,000 and the Orange County, Florida, Sheriff $145,660.
Anthony has struggled to earn a living since she was found not guilty of murdering her two-year-old daughter Caylee in July 2011.