Conservative Anchor Tomi Lahren Rants Against Barack Obama -- White Racism Didn't Kill Marines! Calls Moderate Muslims Tomorrow's Terrorists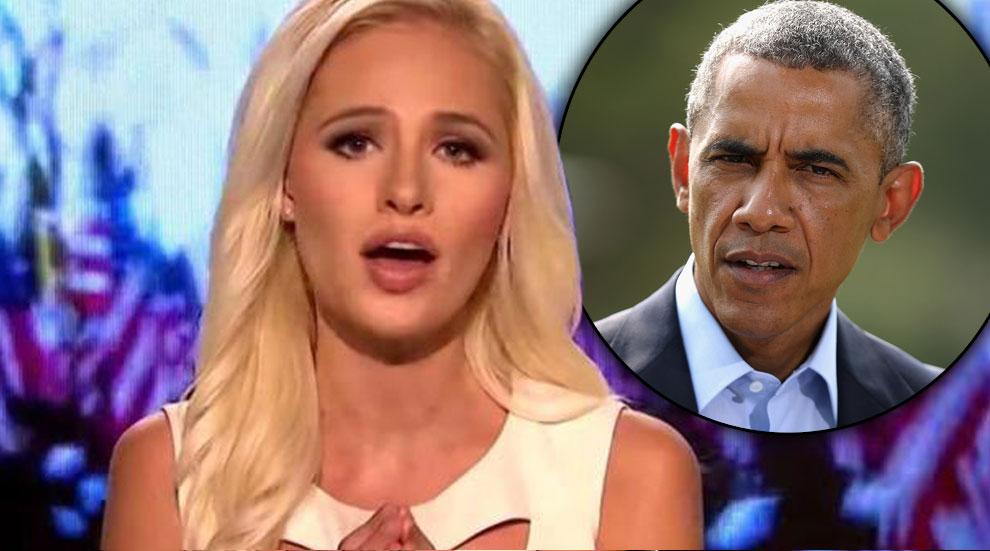 One America News Network may not be a household name, but one of their anchors, 22-year-old Tomi Lahren has made a name for herself with a viral rant against President Barack Obama for what she calls his "Muslim sensitivity."
As RadarOnline.com reported, four Marines were killed last week in Chattanooga, TN by alleged shooter, Muhammad Youssef Abdulazeez. Outraged by what she called Obama's "half-baked" response to terrorism, Lahren let the world know what she really thinks about America and it's tolerance for Islam. "Yesterday's moderate is today's terrorist," she said.
Article continues below advertisement
"Four United States Marines are now dead. Climate change didn't kill them, lack of free community college didn't kill them. The income gap, wage inequality, nope not those things either. Gay marriage? Nope. Oh, white racism? Not that either," she quipped.
"Was he linked to ISIS or Al-Qaeda or Hamas or any of the other 15 plus offshoot terrorist groups," she asked. "Does it matter? I'm sorry, but radical Islam is becoming the exception, not the rule."
Lahren made it clear that despite reports that the 24-year-old alleged shooter was not particularly religious, she still considered him a Jihadist."Do I care that he seemed like an all-American young man? Do I care that he was good at mixed martial arts or a smart quiet guy? Do I care that his high school friends would not classify him as 'overly religious'? No, I don't give a flying you-know-what about any of that."
"Be a leader, someone" she shouted. "Show them what a B1 bomber looks overhead," she demanded. "Put the fear of God in their desert!"