'Cecil The Lion's' Dentist Killer Paid $127K In Sexual Harassment Suit –– Plus 4 New Developments In Shocking Controversy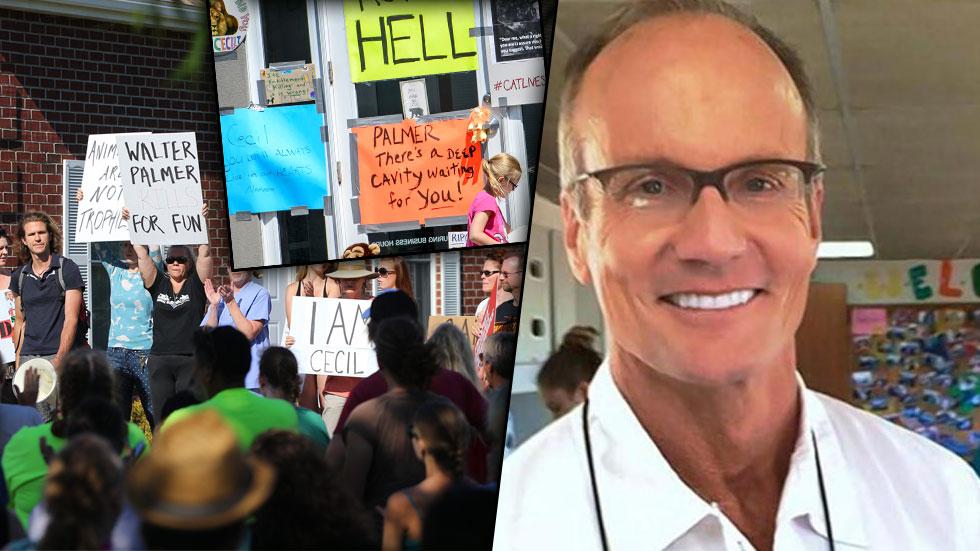 RadarOnline.com has the latest in the stir surrounding Walter Palmer, the 55-year-old dentist who killed "Cecil," an endangered lion during a Zimbabwe trip this month.
Sexual Harassment
Palmer, no stranger to past legal troubles, paid $127,500 to a former assistant in 2009, to settle a sexual harassment she filed in 2005. In court docs detailing the agreement, the dentist was alleged to have acted inappropriately in the form of "verbal comments and physical conduct involving her breasts, buttocks, and genitalia" in a six-year span from from July of 1999 to January of 2005. Palmer's accuser said she tried unsuccessfully to get him to cease his actions, and believed she was terminated as a result of her vocal resistance. The dentist, who agreed to the settlement without admitting any of the alleged wrongdoings, also consented to undergoing "at least three hours" of workplace harassment training, and give the woman a positive referral for all future possible employers.
Article continues below advertisement
Watch the video on RadarOnline.com
Court Proceedings
In connection with alleged poaching of the protected animal, hunter Theo Bronkhorst and farm owner Honest Trymore Ndlovu appeared in a Zimbabwe courtroom Wednesday. Bronkhorst was let go after posting $1,000 bail, while Ndlovu was released with no charges. Ndlovu's attorney Tonderai Mukuku told the AP that local law enforcement and prosecutors were determining his client's actions in the incident, and could charge him with something next week. Zimbabwe govt. officials said they would like to talk about the incident to Palmer, who has claimed he was taking the word of his tour guides that their actions were within the law. Authorities with Zimbabwe's U.S. Embassy said no extradition requests have been filed against the dentist, who reportedly paid the men $50,000 for the expedition. The U.S. Fish and Wildlife Service said it would be willing to participate in any probe of the dentist.
Watch the video on RadarOnline.com
Community Outrage
More than 200 protesters kept their cool during a demonstration at Palmer's Bloomington, Minn. dentistry practice, River Bluff Dental, on Wednesday. Local authorities said that "everyone in attendance dispersed on their own with no law enforcement involvement," and that "there were no incidents reported during this peaceful demonstration, and no arrests were made." Some of the dentist's patients were among those in the crowd, as was Mark Balma, an artist who set up his easel to paint a portrait of the late lion Cecil. Calling the animal's death "a real tragedy," Balma told Minnesota's Fox 9 his intent was to give "attention to Cecil, rather than the dentist."
Article continues below advertisement
Watch the video on RadarOnline.com
Letter To Patients
Palmer attempted to salvage his business amid the ongoing uproar in a letter he sent to his client roster. He stressed that he's a lifelong hunter who understands why people are angry at him, though he didn't knowingly break the law in the incident. "To my knowledge, everything about this trip was legal and properly handled and conducted," he wrote. Palmer said he's going to cooperate with authorities, and that because of the scandal, the clinic is closed until further notice. He "profoundly" apologized to his clients and said his office was referring patients to other dentists amid the clinic's temporary shutdown.
Full content of letter:
"To my valued patients:
As you may have already heard, I have been in the news over the last few days for reasons that have nothing to do with my profession or the care I provide for you. I want you to know of this situation and my involvement In addition to spending time with my family, one of my passions outside dentistry is hunting. I've been a life-long hunter since I was a child growing up in North Dakota. I don't often talk about hunting with my patients because it can be a divisive and emotionally charged topic. I understand and respect that not everyone shares the same views on hunting.
Article continues below advertisement
In early July, I was in Zimbabwe on a bow hunting trip for big game. I hired several professional guides and they secured all proper permits. To my knowledge, everything about this trip was legal and properly handled and conducted. I had no idea that the lion I took was a known, local favorite, was collared and part of a study until the end of the hunt. I relied on the expertise of my local professional guides to ensure a legal hunt. I have not been contacted by authorities in Zimbabwe or in the U.S. about this situation, but will assist them in any inquiries they may have.
Again, I deeply regret that my pursuit of an activity I love and practice responsibly and legally resulted in the taking of this lion. That was never my intention. The media interest in this matter – along with a substantial number of comments and calls from people who are angered by this situation and by the practice of hunting in general – has disrupted our business and our ability to see our patients. For that disruption, I apologize profoundly for this inconvenience and promise you that we will do our best to resume normal operations as soon as possible. We are working to have patients with immediate needs referred to other dentists and will keep you informed of any additional developments. On behalf of all of us at River Bluff Dental, thank you for your support.
Sincerely, Walter J. Palmer, DDS River Bluff Dental"