FBI Investigating Fire At Historical Black Church In South Carolina –– KKK Attacked Church In 1995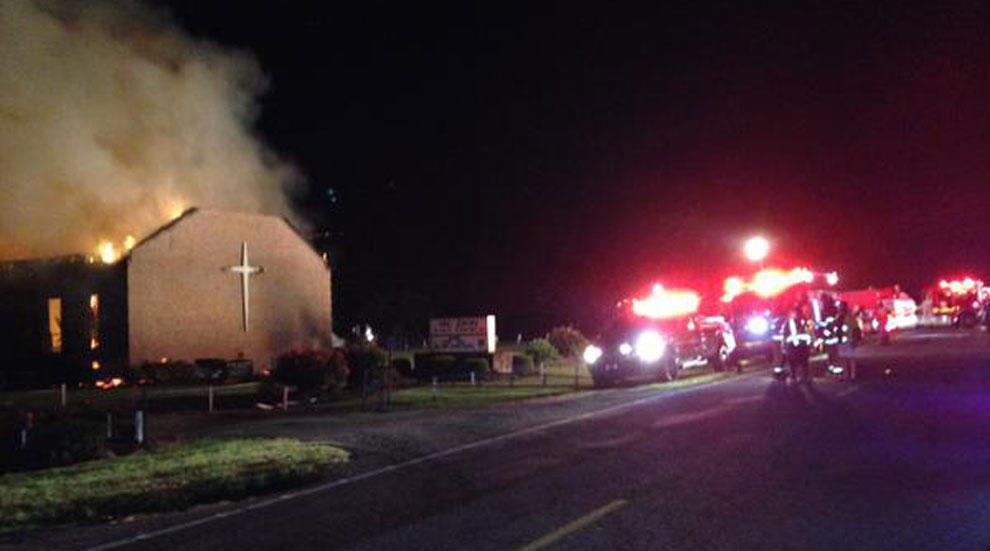 A historic black church in South Carolina burned Tuesday evening, and authorities were investigating what caused the blaze after the June 17 massacre in nearby Charleston.
No one was injured in the blaze at Greeleyville's Mount Zion African Methodist Episcopal, which 50 firefighters worked on putting out, Williamsburg County Fire Chief Randy Swinton told CNN. Authorities with the ATF and FBI were on scene as well, ATF Special Agent Tom Mangan said.
Article continues below advertisement
"Anytime there is a house of worship involved in a fire," Mangan said, "ATF is automatically assigned to look into the cause."
The church was burned down by the Ku Klux Klan 20 years ago, was on fire Tuesday, officials said.
Watch the video on RadarOnline.com
Eddie Woods Jr., a local councilman, said the fire reminded him of the hate-fueled blaze set by the hate group June 20, 1995.
"That was a tough thing to see -- it is hurting those people again -- but we're going to rebuild," Woods told the AP. "If this was someone, they need to know that hate won't stop us again."
In 1996, then-President Bill Clinton visited the church and praised the congregation for their resilient nature.
"The American people are the most religious, church-going people of any great democracy -- we cannot let someone come into our democratic home, the home of our faith, and start torching our houses of worship," Clinton said.
The area had recently been batted down by storms, according to Division Chief Mark Keel of the State Law Enforcement Division, who said officials will further probe the area Wednesday.
"We do know they apparently had some strong storms ... I talked to a guy who said they had a lot of lightning down there tonight, I don't know whether that had anything to do with it at all," Keel said.
Authorities said they didn't think Tuesday's blaze was linked to a Friday church fire in Aiken, South Carolina.
The blaze comes weeks after nine people were gunned down in a hate-fueled rampage at Charleston's Emanuel African Methodist Episcopal Church; a minimum of six historical black churches have caught fire in the weeks since, and remain under investigation.