More Bombshells To Come? 2 Bill Cosby Accusers Want His 2005 Transcripts Released To Public –– Accuser Says Star 'Hunted Me Like A Predator'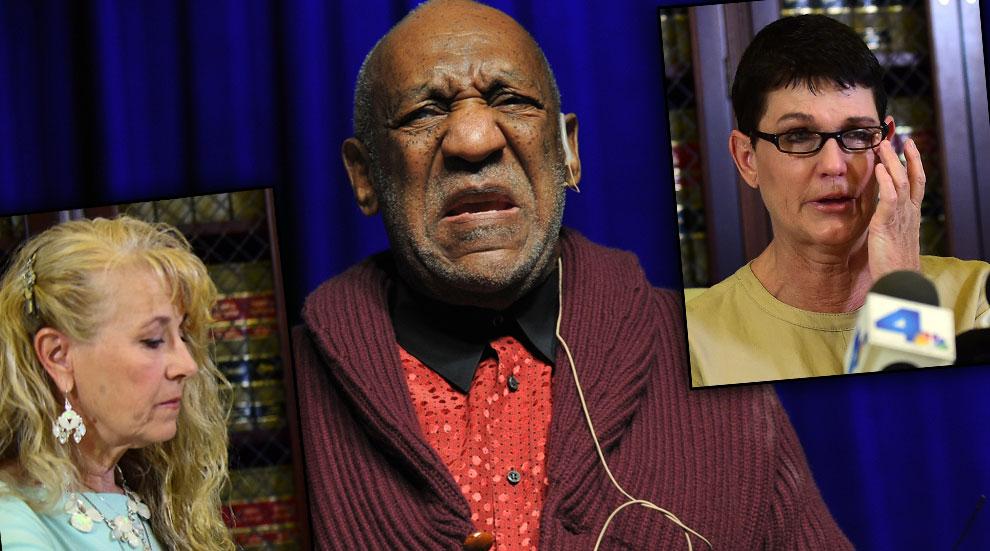 Two women accusing Bill Cosby of drugging and raping them want the full transcripts of the comic's 2005 deposition in a sexual-battery suit made public.
Flanked on Monday by attorney Gloria Allred, Beth Ferrier and Rebecca Neal said in a Los Angeles news conference that they want the curtain pulled back on the deposition in an effort to lend credibility to claims made by them, and more than two-dozen other women in the ongoing scandal.
Article continues below advertisement
They have filed paperwork -- as "Jane Does" -- with courts in Pennsylvania, where the 78-year-old's 2005 court dealings took place, to have the testimony unsealed.
Ferrier claimed that The Cosby Show star drugged her coffee during an incident in Colorado, and that releasing the full transcript would shed light on what really went on between the two.
"In the recently released excerpts of his deposition, Bill Cosby admits that he was with me in Denver and that he, quote, 'Probably had sex with me,'" she said. "It is important for the world to know the truth about how Bill Cosby hunted me like a predator.
"My refusal of his constant advances fueled his desire and eventual drugging-rape ritual."
Watch the video on RadarOnline.com
Neal claims her run-in with the embattled star took place in Las Vegas 1986, when she worked as a masseuse in Las Vegas.
She said that the "betrayal of trust from this famous celebrity was so traumatic," as she "thought, 'Who would believe me that Bill Cosby was a serial rapist that used drugs to assault unsuspecting young women?'"
Cosby claimed in 2005 that he didn't ever remember meeting Neal and "knew of no reason why Ms. Neal would fabricate such a story."
As RadarOnline.com previously reported, news broke last week of Cosby's admitting to buying quaaludes to give potential sex partners during the 1970s.
Cosby, who is under investigation in Los Angeles, has not been charged with any crimes in connection with the accusations.