'Such A Dumb Thing To Tweet': Bethenny Frankel Raises Eyebrows With Jewish Joke –– Makes Ethnic Crack After Insect Sting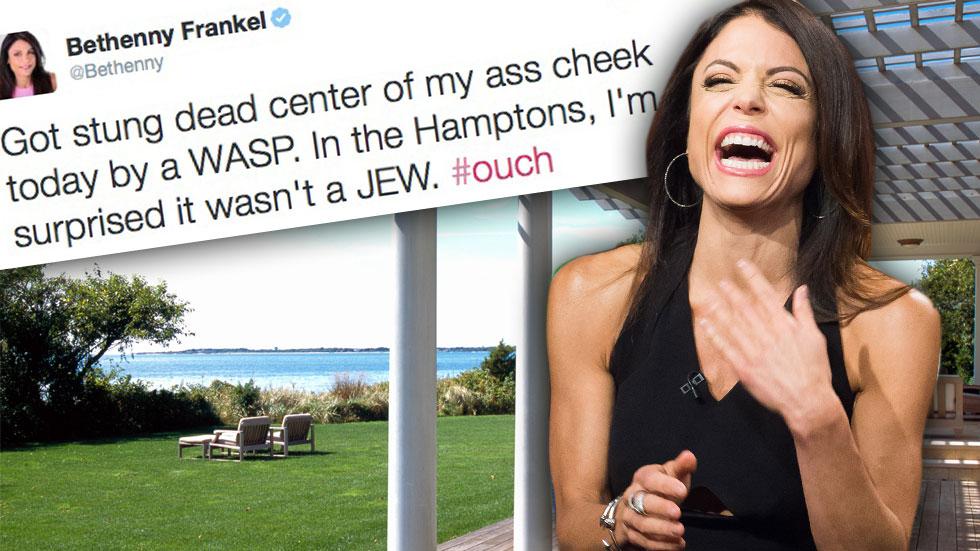 Bethenny Frankel received a series of surprised and annoyed responses after tweeting a Jewish joke Sunday.
The Real Housewives of New York star, 44, wrote, "Got stung dead center of my a** cheek today by a WASP. In the Hamptons, I'm surprised it wasn't a JEW. #ouch." (The humor references an actual insect wasp, using the the double entendre of the informal phrase "WASP," which refers to White Anglo Saxon Protestant.)
Article continues below advertisement
While both of Frankel's parents are Jewish -- her father by birth, and her mother converting from Roman Catholicism -- the outspoken Frankel has said she's "not particularly religious," but more "spiritual."
Despite her deep ties to Judaism, Frankel's background didn't exactly get her a pass in the thread of reactions.
One user @GraceIn2015 wrote, "Such a dumb thing to tweet," while another user under the handle @MIMIBVAVAL write, "Careful. Don't say things to have to apologize for, best to say things to make a difference."
Another under the handle @JoySchoge was one of many who didn't understand the ethnic components of the joke, writing "HUH?????? what do you mean 'jew'????"
Even more cringeworthy, the post inspired at least one offensive joke in response, as user @Travvie_Dearest quipped, "LMFAO! Well, they were looking for a sweet deal! ?❤️"
The Real Housewives of New York airs Tuesdays at 9/8c on Bravo.