Exclusive
Duggar Paternity Scandal! Amy's 'Dad' Terry Has No Paternal Ties To '19 Kids' Star, Court Documents Claim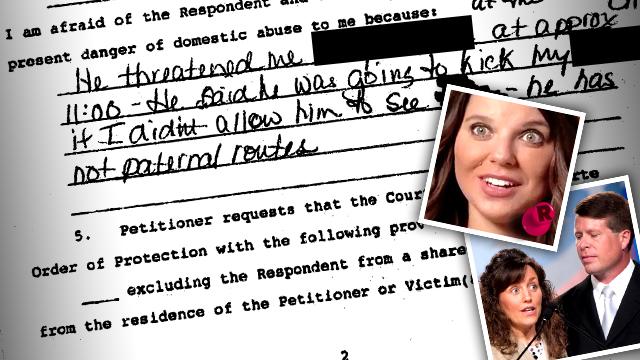 After RadarOnline.com revealed she was born out of wedlock, Amy Duggar came clean, admitting that her unmarried mom was "scared, young, ridiculed, and felt ashamed" about the birth.
She also praised her father, Terry Jordan, in the Instagram confession.
"I have such an awesome relationship with my dad! Seriously he's the greatest!" she gushed.
But the seemingly transparent 19 Kids And Counting star, 28, may not have been telling the whole truth to her fans.
Article continues below advertisement
RadarOnline.com can exclusively reveal that Arkansas artist Jordan, 52, may not be Amy's father at all!
According to court documents obtained by RadarOnline.com, Amy's mother Deanna Duggar, 52, told authorities that Jordan "has not paternal routes sic" to the bubbly Christian singer.
READ THE SHOCKING COURT PAPERS
As RadarOnline.com exclusively reported, gospel singer Deanna filed a restraining order against boyfriend Jordan in July 1992, claiming he was threatening her and her child, whom RadarOnline.com has identified as a 5-year-old Amy.
"He said he was going to kick my a** if I didn't allow him to see redacted," she wrote in the protection order petition. "He has no paternal roots."
The protection order was approved but dismissed just days later at Deanna's request.
This is just the latest scandal to hit the TLC reality family in recent weeks.
In May, a police report revealed that patriarch Jim Bob's eldest son Josh, 27, was accused of molesting five minor females in his family home as a teen. Sisters Jessa, 22, and Jill, 23, later came forward as victims.