Exclusive
Jailhouse Gigolo! Read Aaron 'The Hunk' Hernandez's Secret Prison Letter To 'Very Special' Lady From Behind Bars — Does His Fiancée Know?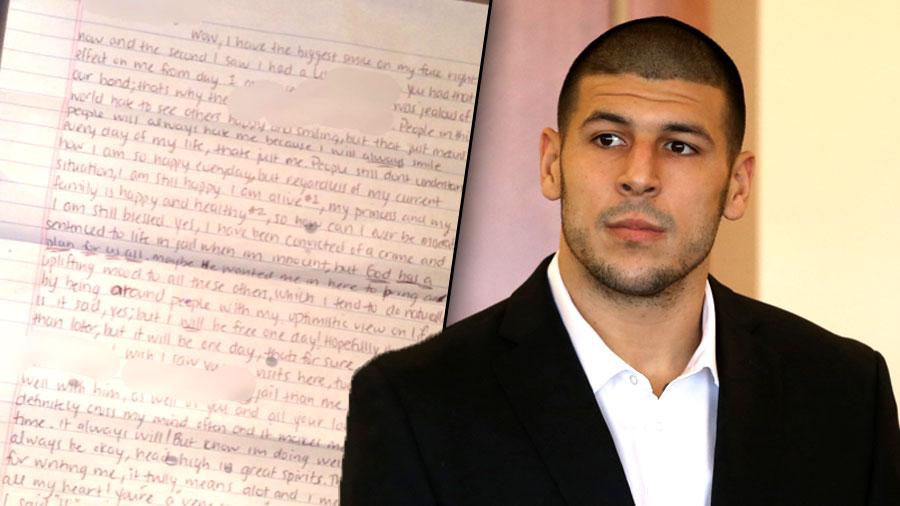 Convicted killer Aaron Hernandez is still up to no good from behind bars! The former NFL star is engaged to girlfriend Shayanna Jenkins, but he couldn't help but flirt with a "very special" prison pen pal in a letter exclusively obtained by RadarOnline.com.
The former New England Patriot, found guilty by a jury for the murder of Odin Lloyd, is in the Souza-Baranowski Correctional Center in Shirley, Mass. But in a cheerful letter to a friend, the gang member claims that he is "happy every day" and believes he was locked up to "bring an uplifting mood" to his fellow inmates.
Article continues below advertisement
In the letter Hernandez, 25, writes about how he is keeping a positive attitude.
"Wow I have the biggest smile on my face right now and the second I saw I had a ... you had that effect on me from day one...was jealous of our bond that's why the... people in this world hate to see others happy and smiling but that just me and people will always hate me because I will always smile every day of my life, that's just me. People still don't understand how I am so happy every day but regardless of my current situation I am still happy I am alive#1 my princess and my family is happy and healthy, #2 so how can I ever be miserable I am still blessed.
Hernandez' first-degree murder conviction earned him a life sentence without the possibility of parole, but according to the former NFL star's letter, he believes a higher power is looking out for him.
"Yes I have been convicted of a crime and sentenced to life in jail when I'm innocent but God has a plan for us all. Maybe he wanted me in here to bring an uplifting mood to all these others which I tend to do naturally by being around people with my optimistic view on life. It is sad yes but I will be free one day hopefully it sooner than later but it will be one day that's for sure.
The former University of Florida football star, who is still facing another double murder trial in Boston, tells his "very special" lady that he is "smiling" behind bars and hasn't been unhappy about his situation and shockingly signs the letter from "Aaron the hunk," with a smiley face.
"When I saw you...visits here too but your...jail than me. I hope all is well with him as well as you and all your loved ones. You definitely crossed my mind often and it makes me smile every time. It always will! But know I'm doing well and I will always be okay, head high in great spirits. Thank you for writing me it truly means a lot and I mean that with all my heart you're a "very special" lady tell the family I said hi and...too. I send this letter with much love and please remain in touch from time to time. I will also. much love Aaron the hunk :)"
What do you think about the flowery letter from the convicted killer? Sound off in comments below.