Duggar Dilemma: FCC Complaint Could Bring Down '19 Kids & Counting' For Good, Claims Family 'Pollutes' TV Airwaves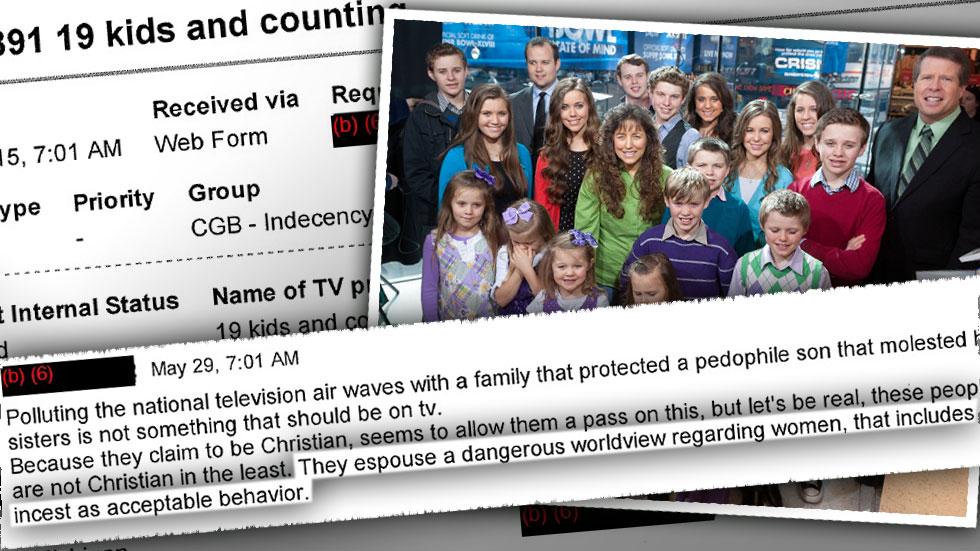 The Duggar family may be lying low in hopes of recovering from Josh Duggar's sex abuse scandal, but their luck could run out very soon!
RadarOnline.com has obtained new Federal Communications Commission (FCC) documents, which contain a complaint that could lead to the ultimate demise 19 Kids and Counting.
The complaint filed details the "dangerous" views portrayed on the TLC hit-series and asks for the show to be pulled from the air altogether.
Article continues below advertisement
According to the document, 19 Kids and Counting "pollutes the national television airwaves with a family that protected a pedophile son."
"Because they claim to be Christian," the complaint continues, "it seems to allow them a pass. They espouse a dangerous worldview regarding women, that includes incest as acceptable behavior."
The FCC issued a prompt reply, explaining that the organization could only take action on a complaint "relating to particular programming, rather than a general opinion."
Should complaints continue, however, TLC may have to pull the plug on the hit-show.
Four commercial sponsors have already dropped 19 Kids and Counting due to the Josh Duggar scandal, making matters quite bleak for the reality family already.
Do you think the Duggars should be taken down from TV altogether? Let us know in the comments below!