Exclusive
Chris Is A 'Hyprocrite!' Transgender Model Who Spent The Night With Brown Slams Singer's Caitlyn Jenner Comments -- 'Slap In The Face' After Their Rendezvous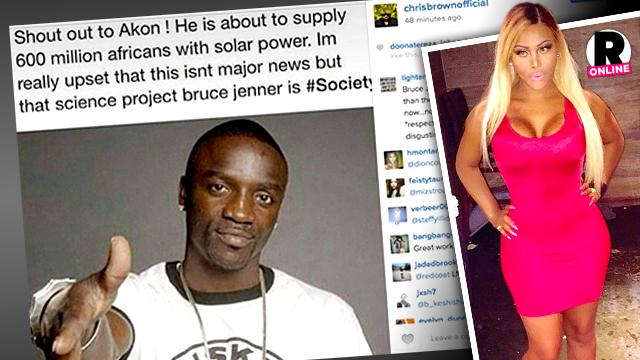 The Keeping up with the Kardashians clan are not the only ones hitting back against their supposed pal Chris Brown over his comments on Caitlyn Jenner. After Brown recently referred to the 65-year-old newly transitioned matriarch, as "that science project," a transgender model who once spent the night with Brown is reaching out to RadarOnline.com to slam him for his hypocrisy!
Transgender model Shauna Brooks spent the night at Brown's Virginia home in October 2014. After seeing his Instagram commentary on Jenner, she told RadarOnline.com, "Chris' post was just flat out disrespectful on so many levels."
Article continues below advertisement
"He is a hypocrite," Brooks (@theshaunabrooks) told RadarOnline.com. "The things that made me upset over this is that I hung out with Chris and he opened up his home to me. It was an absolute slap in the face to me personally, as well as to the transgender community."
As RadarOnline.com reported, the debacle started when the troubled 26-year-old singer reposted Snoop Dogg's meme to his Instagram on June 3, which said, "Shout out to Akon. He is about to supply 600 million Africans with solar power. I'm really upset that this isn't major news but that science project Bruce Jenner is #Society."
Brooks quickly jumped to comment on the post, threatening to tell all about their encounter if Brown did not delete it. "F*ck nooooo. Now I feel that I am about to spill the beans @chrisbrownofficial," she wrote. "Take that shit down."
Brooks has not talked to Brown since last year, but her scare tactics apparently worked because the post was taken down shortly after.
Now, she told RadarOnline.com, "I am not going to stoop to his level and talk about what it was I was going to spill the beans on exactly. He did not apologize to me, but he did take the post down. That is all I wanted."
Article continues below advertisement
In the meantime, she's thrilled to welcome Jenner as a transgender ally.
"Caitlyn Jenner shed light on how big the Trans community is," she adds, "But Caitlyn Jenner is not a pioneer in the transgender community. Before she did that cover, there were many of us women that came before her."
"However, she did bring it into everyone in the world's face and forced the entire society to deal with it and look at it. That was a huge step for us transgender people'," Brooks says.
"But despite what her story is, the transgender community is a sisterhood and I had to stick up for my sister."
Do you think that Chris Brown owes the transgender community an apology? Tell us your thoughts in the comments below.