Baby For Sale! Suitcase Killer Selling Baby On Black Market In Indonesia Grandmother Alleges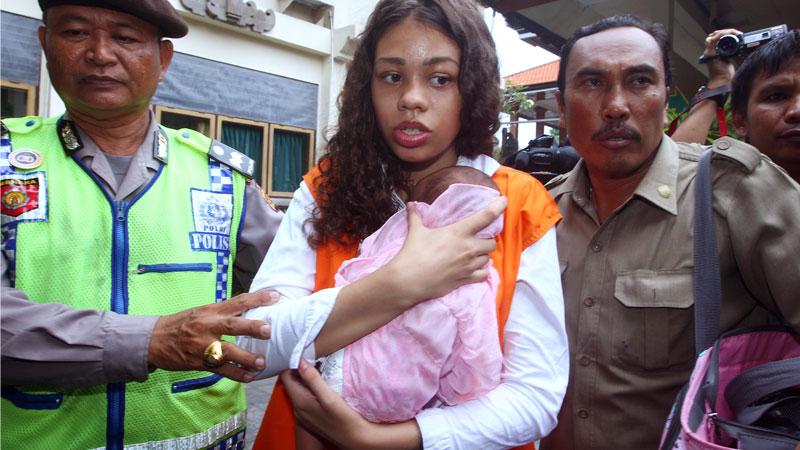 An American woman convicted of assisting in the murder of her mother while on vacation in Indonesia is now being accused of trying to sell her daughter for $150,000!
A Chicago couple was in Indonesia for what appeared to be a fun family vacation when things took a sinister turn. 19-year-old Heather Mack and 21-year-old Tommy Schaefer were convicted of killing Mack's mother and stuffing her lifeless body into a suitcase during their trip last August. Mack was sentenced to ten years in an Indonesian prison, Schaefer was sentenced to 18 years. Mack, who gave birth to the couple's daughter in March, is now being accused by Kia Walker, the child's paternal grandmother, of attempting to sell the girl on the black market.
Article continues below advertisement
When asked for proof, The Chicago Tribune reports her responding to a Chicago judge, "Would text messages and a confession be acceptable?"
However, when she was pressed by reporters for additional information, she said, "No, I'd rather put it in a book."
Mack's attorneys maintain that these allegations are, "nothing more than a smearing campaign," and that the young mother is trying to do what is best for her daughter. "Anyone who is thinking about book deals in the midst of this tragedy is just plain wrong," Mack's attorney said.
In Indonesia, a child may stay with her mother in prison up until the child is two years old. Mack is currently breastfeeding her daughter, and is reportedly exploring the option of having a local family raise her daughter while she is in prison.