Sherri Shepherd Disses Khloe Kardashian's Backside, Then Tells Fans To 'Calm Down' In Epic Twitter Rant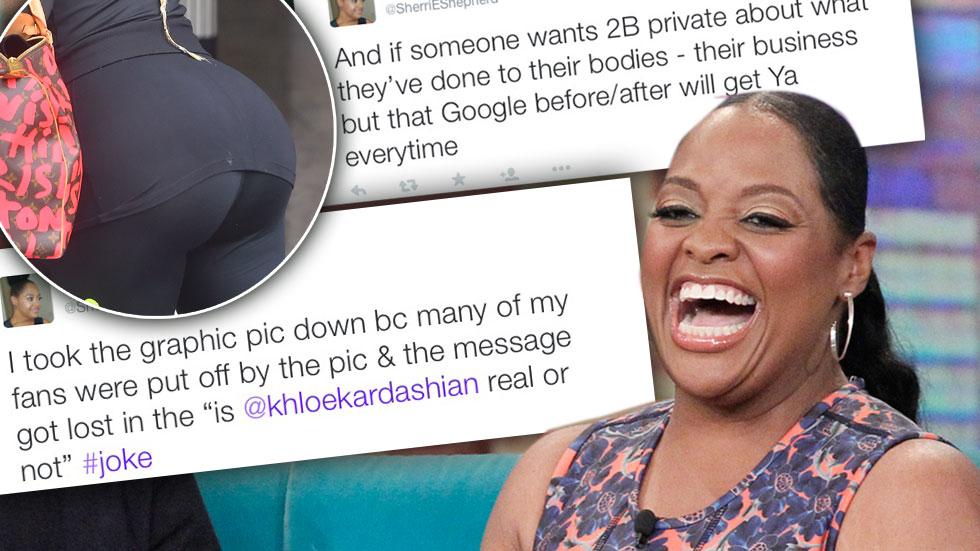 Sherri Shepherd was quick to wave the white flag after slamming Khloe Kardashian's allegedly fake butt implants – but she managed to put in another two cents on the matter.
In a recent Twitter rant, Shepherd posted a graphic photo regarding the potential dangers of undergoing implants on your backside, but managed to drag Kardashian down in the process:
"Every time I think about going to the doctor for a consultation about getting a plumper butt I run across a "this is what can go wrong" pic," the TV host wrote on Twitter. "Ladies stop going to these basement/back alley folks. It's not worth it – gotta ask @khloekardashian where she got hers."
Article continues below advertisement
After receiving relentless criticism from Kardashian fans, Shepherd deleted the post and went on another rant – this time with some heavy back peddling incorporated.
"Interesting…one comment where I add Miss @khloekardashian's name and it sets off a firestorm w her fans," she wrote. "Almost about to delete this post bc I don't have time for childish behavior and rude name calling – I referenced Khloe because she obviously went to a legit doctor as opposed to the back alley person who did the botched job on the left."
"All folks and tabloids trying to start "mess" because of a slow news day – calm down," she continued. "And those fans that feel the need to jump to Khloes "defense" there is no reason to. Besides she is grown and has been in this business a long time, she understands how things work – we all do."
Yikes! Shepherd sure knows how to speak her mind!
Later, after clearly regretting her second rant, the TV personality deleted the post from her account as well. In its place, she posted a short and semi-sweet joke about the whole thing, attempting to laugh it off :
Do you think Sherri went too overboard? Let us know in the comments below!