'I'm Done!' Shannon Beador Slams Newcomer Meghan Edmonds In Epic Confrontation On 'Real Housewives Of Orange County'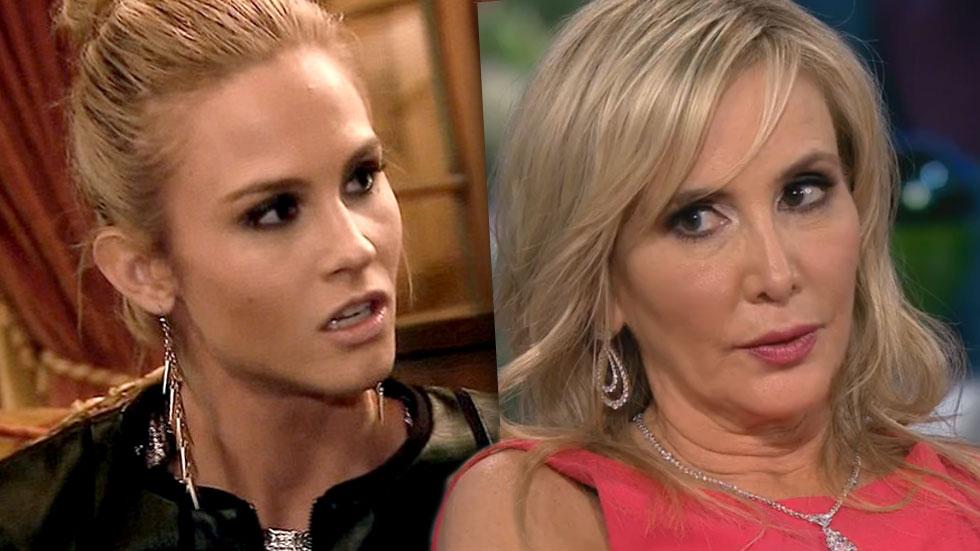 A blowout fight between Shannon Beador and Meghan Edmonds brought plenty of drama to Monday's episode of the Real Housewives of Orange County.
To start things off, Heather Dubrow and the ladies travel to Napa to celebrate the launch of her new sparkling wine "Collette," but she soon discovers just how tough it is to run your own roost.
Upon her arrival at the Bello Family Vineyard, Heather micromanages her event staff, taking great pains to ensure that everything is ready for the evening ahead.
Article continues below advertisement
"I am a control freak, but I know I can't control everything," she admits later in confessional. "So it's really a balance."
Though the party turns out to be a wild success, all hell breaks loose when hubby Terry discovers that his real estate-savvy wife has been spending too much on the construction of their new family home.
"$135,000 over budget?!" he shouts when Heather gives him the financial rundown.
Luckily, Heather manages to talk him down and the couple continues to enjoy the rest of their party in drunken cahoots.
Meanwhile, newcomer Meghan King Edmonds is excited for her first trip to wine country, but admits her apprehension after Shannon Beador gave her the cold shoulder during last week's episode. To make matters worse, Shannon and husband David experience yet another nasty fight -- this time over David's erratic behavior.
Article continues below advertisement
Never much of a drinker, David opts to take multiple Saki shots before the big event, sending Shannon into a tizzy over old, unwanted memories of his affair and their troubled past.
Watch the Video on RadarOnline.com
"It's hard to combat negative thoughts," she says of the argument.
When Meghan finally approaches Shannon, confessing that she had never flirted with David last season, Shannon is surprisingly kind. She assures Meghan that any anger was targeted at David, who had been ignoring her at the time.
"Did it have anything to do with Meghan? No," Shannon seethed over the ordeal, adding that David had been the source of the problem all along.
Though the couple manages to set their differences aside at the end of the night, Shannon admits she needs to express her feelings without consequence.
Unfortunately, Meghan can't quite accept playing nice just yet. Instead, she chooses to confront Shannon over an "unfriendly" phone call they had weeks back.
Article continues below advertisement
As Tamra Judge warns during confessional: "You have to be careful with Shannon. If you set something off -- she's crazy."
Watch the Video on RadarOnline:
And this real housewife proves to be just that, brushing off Meghan's attempts at confrontation by walking away in a huff.
"You know what, I'm done," Shannon says as she storms off.
Exasperated, Meghan calls after her: "We can't end this peacefully?"
Evidently, not. Shannon continues to rattle off insults as she walks away, leaving Meghan bewildered and fuming.
"Shannon is erupting over something she could easily fix by saying 'I'm sorry,'" Meghan says in confessional.
Will these two divas be able to work things out? Find out next week!
The Real Housewives of Orange County airs Mondays at 9/8c on Bravo.