Tensions Boil Over! Meghan Edmonds Disinvites Shannon Beador To Her Charity Party On 'RHOC' –– 'I Don't Want Her In My House!'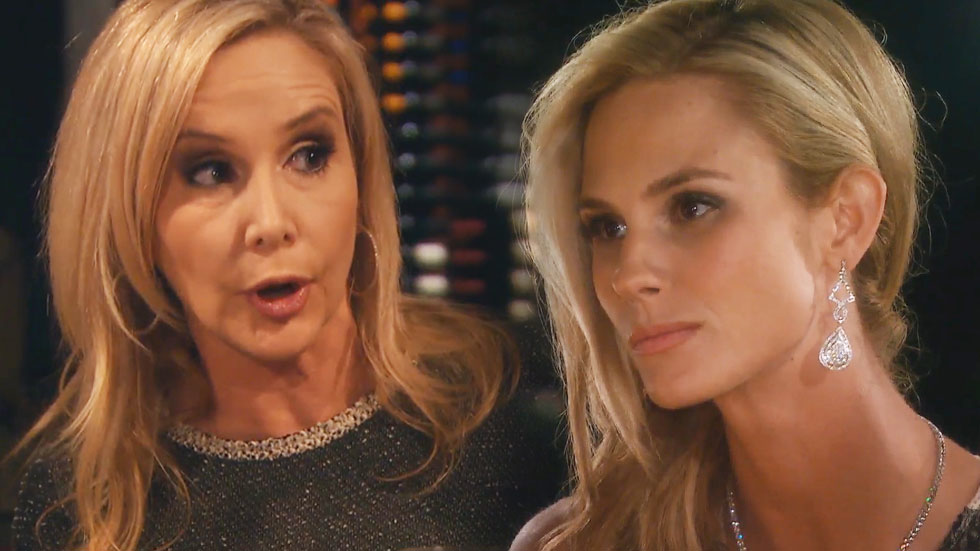 On Monday's Real Housewives of Orange County, Shannon Beador and Meghan King Edmonds picked up where they left off -- with a catfight!
Shannon finally storms off after Meghan accuses her of being rude and dismissive on the phone weeks back, letting the party cool down a bit.
"Who do you think you are, Miss 30-year-old?" Beador scoffs during confessional.
But soon after, Meghan spars for round two, again accusing Shannon of being unhelpful. Unfortunately, her juvenile attitude doesn't go over too well with her veteran costars.
Article continues below advertisement
"I feel like I'm in middle school! Adults don't act this way!" Shannon blurts before making an empty-hearted apology.
But Meghan won't accept "a bullsh*t apology" and swiftly disinvites Shannon to her upcoming charity party she's organizing.
Later, Shannon meets pals Vicki Gunvalson and Tamra Judge for a girls' dinner, where she discovers that she's been shut out of Meghan's shindig.
"I haven't gotten a phone call yet!" Shannon realizes aloud. "Did you get an official invitation?"
"I got a phone call today," Tamra nods reluctantly, adding that Meghan explained she couldn't risk having Shannon "fly off the handle" during her party.
Watch the Video on RadarOnline
"You know what, true colors are showing," Shannon shakes her head, calling Meghan's behavior immature.
"How old are we?" Vicki chimes in. "She's 30 and acting like she's 13. If you're not going, I'm not going. That's my stance."
MORE ON:
Real Housewives of Orange County
Article continues below advertisement
Meanwhile, Heather Dubrow takes a break from managing the construction of her new home to intervene on the situation, visiting Meghan the day of the party.
"Might there be a space where you might consider calling Shannon?" Dubrow started.
"I'm not going there," Meghan quickly interrupts. "I don't want to exclude her but I think she's excluding herself by her behavior."
During confessional, the newcomer adds with some sass: "The only Shannon I know is the one who blew up and stormed out in Napa! I don't want her in my house."
Ouch!
Watch the Video on RadarOnline
As the party goes on, quite successfully, Vicki and Shannon head to a bar for some drinking and gossip on their anti-party outing.
"I really don't know what mistake I made to deserve the way she treated me," Shannon sighs.
"This was clearly malicious," Vicki says in full support.
At the end of the party, Meghan claims she wants to make things right with Shannon, telling the other housewives that it was simply a bad time to patch things up.
Though the girls seem understanding, they quickly decide to ditch the event and join Vicki and Shannon for their fun-filled rendezvous at the bar.
There's no doubt a storm brewing among these divas!
The Real Housewives of Orange County airs Mondays at 9 PM EST on Bravo.